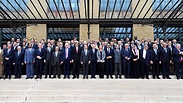 Attending delegates
Photo: AFP
Paris summit ends with warning against unilateral measures
Over 70 countries reaffirm commitment to two-state solution; diplomats say subliminal message sent to Trump administration; Britain has 'particular reservations,' doesn't sign; French FM says basis of peace talks remains pre-1967 borders; Israel is relieved by final communiqué, while Palestinians are pleased.
The Paris conference for peace in the Middle East held on Sunday approved a communiqué calling on Israel and the Palestinians to adopt a two-state solution based on the pre-1967 borders and UN Security Council resolutions and to refrain from unilateral actions, though Britain expressed reservations and refrained from signing.

Some 75 countries and international organizations that were present welcomed Security Council resolution 2334, "which clearly condemned settlement activity, incitement and all acts of violence and terror."

Countries including key European and Arab states as well as the permanent members of the UN Security Council were in Paris for the conference, which Israeli Prime Minister Benjamin Netanyahu rejected as "futile". Neither the Israelis nor the Palestinians were represented.

Paris has said the meeting did not aim to impose anything on Israel or the Palestinians and that only direct negotiations could resolve the conflict.


The closing statement was meant to send a powerful message to Israel and the incoming Trump administration to keep hopes alive for a two-state solution between Israel and the Palestinians. It urged both sides to "officially restate their commitment to the two-state solution" and disassociate from voices that reject this.
Embassy move
The final communiqué shied away from explicitly criticizing plans by US President-elect Donald Trump to move the US Embassy to Jerusalem, although diplomats said the wording sent a "subliminal" message.

Just five days before Trump is sworn in, the meeting was seen as a platform for countries to send a strong signal to the incoming American president that a two-state solution to the conflict could not be compromised on and that unilateral decisions could exacerbate tensions on the ground. Trump's campaign platform made no mention of Palestinian independence.

The participants "call on each side…to refrain from unilateral steps that prejudge the outcome of negotiations on final-status issues, including, inter alia, on Jerusalem, borders, security, refugees and which they will not recognize," the final communiqué said.

A French diplomatic source said there had been tough negotiations on that paragraph.

"It's a tortuous and complicated paragraph to pass a subliminal message to the Trump administration," the diplomat said.

French Foreign Minister Jean-Marc Ayrault said France would work to maintain good relations with the Trump administration but stressed French fears that an embassy move will unleash new Mideast violence.

He cautioned Trump against moving the US embassy before new peace negotiations can be held. The move could be seen as recognizing Jerusalem as Israel's capital after decades of insisting that the city's status must be determined by direct talks.

In a statement, the conference called on them to avoid steps that "prejudge the outcome of negotiations on final status issues, including, inter alia on Jerusalem, borders, security, refugees".

Trump has pledged to pursue more pro-Israeli policies and to move the U.S. Embassy from Tel Aviv to Jerusalem, all but enshrining the city as Israel's capital, despite international objections.

US Secretary of State John Kerry said on Sunday it would have been inappropriate to include in a communiqué from a meeting held in Paris on Israeli-Palestinian peace a mention of plans by the Trump administration to move the US embassy to Jerusalem.

"It is being debated publicly at home and does not belong within international fora at this moment in time. It's inappropriate," Kerry told reporters after a meeting of 70 countries on ending the Israeli-Palestinian conflict.

Relations between the United States and Israel have soured during President Barack Obama's administration, reaching a low point late last month when Washington declined to veto UN resolution 2334 demanding an end to Israeli settlements.

The final draft did not go into any details other than reaffirming UN Security Council resolutions, including 2334. Diplomats said that had been a source of friction in talks.


"When some are questioning this, it's vital for us to recall the framework of negotiations. That framework is the 1967 borders and the main resolutions of the United Nations," Ayrault, told reporters.

Kerry, who abandoned his efforts to broker peace talks in April 2014, told reporters that the meeting had "moved the ball forward."

"It underscores this is not just one administration's point of view, this is shared by the international community broadly," he said.
British reservations
Britain said on Sunday it had reservations about the outcome of the conference in Paris, saying it risked "hardening positions."
"We have particular reservations about an international conference intended to advance peace between the parties that does not involve them—indeed which is taking place against the wishes of the Israelis—and which is taking place just days before the transition to a new American President when the US will be the ultimate guarantor of any agreement," a Foreign Office statement said.
"There are risks therefore that this conference hardens positions at a time when we need to be encouraging the conditions for peace."
Britain had observer status at the conference. It did not back the final communiqué.
London last month scolded Kerry for describing the Israeli government as the most right-wing in Israeli history, a move that aligned Prime Minister Theresa May more closely with President-elect Donald Trump.
Israeli reaction
Sources in Jerusalem responded to the statement with relief. A fear of a further Security Council resolution condemning Israel this week seemed to have been alleviated. Further, problematic sections from the draft summary were removed, including comparisons of violence to settlements.
Palestinian reaction
The Palestinians have welcomed the closing statement. Palestinian Authority President Mahmoud Abbas, who said on Saturday that moving the US embassy to Jerusalem would kill off the peace process, said the Paris meeting would help at stopping "settlement activities and destroying the two-state solution through dictations and the use of force."

Palestinian official Saeb Erekat said it amounted to a rejection of Israel's occupation and settlement construction in captured territories. He said it sends a message that Israel "cannot achieve peace and stability" without ending its occupation.




Erekat urged Trump to support the statement and last month's UN Security Council resolution.

Home to Europe's largest Muslim and Jewish communities, France has tried to breathe new life into the peace process over the past year and argued that it should not play second fiddle to the war in Syria and fight against ISIS militants.

Salman Elherfi, the chief Palestinian representative to France, told The Associated Press that the conference sent a "very clear" message calling on everyone not to make any changes that would affect a final solution for the region, especially regarding the status of Jerusalem.

He said, "I do not believe that the United States will violate international law because transferring the embassy of the United States into an occupied territory would mean admitting the annexation of this territory by Israel."

He also warned the incoming Trump administration not to "underestimate" the message of peace sent by the conference or the UN resolution last month.

Elherfi insisted "the option of two states is not the dream of a single country, but it has become the concern of the whole world to protect it."

The final statement of the communiqué said interested parties would meet again before year-end.

But Netanyahu told a cabinet meeting on Sunday that "this conference is among the last twitches of the world of yesterday…Tomorrow will look different, and that tomorrow is very close."

Itamar Eichner and Tamar Shabak contributed to this report.