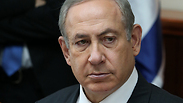 PM Netanyahu
Photo: Amit Shabi
Prime Minister Benjamin Netanyahu took to his Facebook page on Sunday evening in an effort to debunk a string of reports pertaining to alleged meetings that took place between him and Yedioth Ahronoth publisher Arnon Mozes.
"In the last few days, an orchestrated media campaign has been conducted, unprecedented in its breadth, in order to bring down the Likud government under my leadership. This propaganda campaign is intended to exert pressure on the attorney general and other officials in the state prosecutor's office to submit an indictment against me," the prime minister wrote.
"The method is simple: Every day and every evening, carefully selected, filtered transcripts and deliberate lies on two issues are disseminated. Obviously, as long as the investigation continues, I have no way of defending myself. I cannot tell the public the real story behind these things, that clarify that there was no transgression," the post continued.
"Since I am prevented from elaborating on the details on the investigation, I am only able to say things that are public and known to everyone: Everyone knows that I fiercely opposed the 'Israel Hayom' law, that others designed and initiated a long time before the elections of 2013," he insisted. "For many months I prevented the the bill from being brought for a preliminary reading. When the vote came, I voted against the bill together with a handful of MKs that included the majority of Likud members."
Concluding his first public comments on the matter since the case came to public light, Netanyahu said: "It is also known that after the bill passed with a large majority, I disbanded the government and brought the Knesset to an election partly because, among other reasons, of the subversion in the government to pass the bill.
"Everyone also knows that with the establishment of the new government following the elections, I inserted an explicit article with the agreement of the coalition to prevent the recurrence of this kind of legislation."
As a result of all this, Netanyahu said, "nothing happened. Israel Hayom stayed as it is, it flourishes and is blossoming. Meanwhile, the awful media I have received from Yedioth Ahronoth and Ynet hasn't stopped for even a moment."
"That is why all these claims that I acted to advance the 'Israel Hayom' law are false. The same applies to the second issue, which will become clear with time," the prime minister ended his message.
Before the prime minister's Facebook post, Channel 2 broadcast new citations from conversations that Netanyahu had with Mozes.
Arnon Mozes is the publisher and owner of Yedioth Ahronoth Group, which includes Ynet.