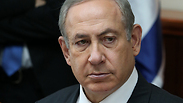 PM Netanyahu
Photo: Amit Shabi
Netanyahu: I intend to lead the country for many more years
Speaking at a party faction meeting Monday, a beleaguered prime minister—under the scrutiny of the media and an ongoing investigation—attempted to appear defiant against what he has described as an 'orchestrated' campaign against him; 'Here's a quote for you: It won't help you.'
Prime Minister Benjamin Netanyahu continued his efforts to strike back against what he has suggested to be dishonest and fabricated media coverage on the ongoing investigation against him on Monday afternoon.

"I want to say to all those reading the transcripts," Netanyahu said during a Likud party meeting in reference to alleged quotes that have been leaked to the papers of a conversation between him and Yedioth Ahronoth publisher Arnon Mozes. "Here are some more quotes for you. 'It won't help you.'"

Entering the meeting to the sound of rapturous applause from loyalists and party members, the prime minister sought to convey a clear message that he was unphased by what he described the night before as "deliberate lies."

Appearing resolute and defiant against the media reports, Netanyahu told his listeners of his plans for the next few years.

"I intend to lead the Likud and the state for many more years, with your help, my friends, and with God's help. Thank you to everyone," he said, once again drawing the enthusiastic applause from his party.

On Sunday night, Netanyahu took to his Facebook page to debunk a string of reports pertaining to alleged meetings that took place between him and Mozes.

He decried the stories surfacing daily in the media as "an orchestrated media campaign... unprecedented in its breadth, in order to bring down the Likud government under my leadership."

Before the prime minister's Facebook post, Channel 2 broadcast new citations from conversations that Netanyahu had with Mozes.

Arnon Mozes is the publisher and owner of Yedioth Ahronoth Group, which includes Ynet.