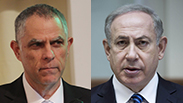 Mozes (L) and Netanyahu
Photos: Alex Kolomoisky, AFP
Guy Peleg: Netanyahu served as mediator between Mozes and businessmen
According to a report by Guy Peleg and Channel 2 News, Prime Minister Benjamin Netanyahu served as an intermediary between news publisher Arnon Mozes and businessmen in an attempt to sell parts of the Yedioth Ahronoth newspaper, which is under Mozes's control; Peleg further claims that the PM and Mozes were in such contact before 2013 elections.
According to Channel 2 News, Prime Minister Benjamin Netanyahu served as an intermediary between publisher Arnon Mozes and businessmen in order to promote a deal to sell parts of Yedioth Ahronoth. According to that same report, the purpose was to give the PM more sympathetic coverage.

Guy Peleg published information received by the police Sunday, which detailed the businessmen in question. The first, Australian billionaire James Packer, allegedly helped Netanyahu prepare for the meeting with the newspaper owner.

Arnon Milchan—who has been alleged as having provided Netanyahu with champagne and cigars worth tens of thousands of shekels—is reported by Peleg as being the second businessman tied to the Mozes case.

According to Peleg, Netanyahu also served as an intermediary between Dr. Mathias Döpfner of German publishing house Axel Springer. According to the report, Netanyahu allegedly explained the importance of purchasing the paper Yedioth Ahronoth.

Finally, the report alleged that Netanyahu served as an intermediary between owner of the Oracle Corporation, Larry Ellison, and Mozes in order to purchase the paper or parts of it.

Additionally, Peleg also released new quotes from the record conversations between Netanyahu and Mozes and claims that the two had a relationship from the last elections.

These are the quotes as they appear in the report:

Mozes: "Bibi, there are elections in another three months. There will be a million things about you. We managed it in 2009, perhaps you forgot."

Netanyahu: "I didn't forget at all."

Mozes: "Intelligently and well managed, and we were in the same situation. We were already in this mess and we did it. This is our fourth election together, not our third, our fourth; 1996, 1999, 2009 and now."

According to the report by Channel 2, it can be understood from the transcripts that Mozes and Netanyahu had a relationship before the 2013 elections.

Additionally, according to Peleg, there are further transcripts detailing work between the two. In one such transcript, Yedioth Ahronoth editor Ron Yaron, former editor Eran Tiefenbrunn and close Netanyahu-confidant, Nir Hefetz, who also used to work at Yedioth Ahronoth.

Mozes: "Assuming we agree on everything, you have to let someone talk to Ron. Whoever you want. You haven't don't it for two months."

Netanyahu: "Can Nir Hefetz speak to him?"

Mozes: "No. Nir wanted to do two things, he wants to work for you and be a Yedioth publisher. So I don't want that…Nir can talk to him, but he (Ron) won't trust him."

Mozes: "The thing is, that at 10:30 at night, I am happily going to sleep. But there are things that come up. (Regarding) the important points and input you'll be making, come on, we'll need two people to be in touch with."

Netanyahu: "It's not 10:00 at night."

Mozes: "He needs to talk to two people, Ron and Eran."

Netanyahu: "Nir can't talk to Eran? Better that he doesn't?"

Mozes: "There are considerations here, there is a past, he was editor of '7 days' and wanted to be the editor of Yedioth, he's involved. Ynet is less of an issue, that's during the day. It's easier."

Mozes: Look Bibi, we need to do everything quickly because I have to move the ship. I'm telling Ron Sunday."

Netanyahu: "But turn the ship around."

Mozes: "I'm telling Ron that Sunday someone will speak to him, that's the start. There were a few small things, one or two, that he asked and and that have happened."

After the transcripts were presented, Peleg claimed that the quote about "turning the ship around" is meant as a request to change the editorial to one less hostile to the prime minister.

Arnon Mozes is the publisher and owner of Yedioth Ahronoth Group, which includes Ynet.