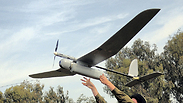 Skylark UAV
Photo: Chaim Hornstein
An IDF Skylark drone crashed in southern Lebanon Monday near the border with Israel. The IDF is investigating the circumstances of the malfunction that caused the drone to crash in the western area of the border.

Lebanese media outlets reported that the Lebanese Army is conducting searches for the lost drone. According to Lebanese news channel "Al-Mayadeen," the drone was reported to have crashed in the area near a village in the south. Additionally, Lebanese news channel "Al-Jadid" reported that the IDF has stepped up contacts with the United Nations Interim Force In Lebanon (UNIFIL) in an attempt to locate the drone.

According to Hezbollah's military propaganda site, the Lebanese Army did not succeed in locating the "spy plane" as a result of the rough terrain, but searches are expected to continue into the morning.

The Lebanese Army has yet to issue a response on the matter, given that the drone has not yet been located.

The drone belongs to the Artillery Corps and is designed for tactical use. IDF liaison officers informed UNIFIL of the crash.