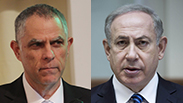 Mozes (L) and Netanyhu (Photos: Alex Kolomoisky, AFP)
Photos: Alex Kolomoisky, AFP
Netanyahu and Mozes allegedly quoted discussing Israel Hayom circulation numbers
Channel 2 releases new quotes between PM Netanyahu and Yedioth Ahronoth publisher Arnon 'Noni' Mozes, allegedly about competitor paper Israel Hayom's circulation numbers; Mozes: "We're trying to find something together.'
Channel 2 News published additional alleged quotes from the conversations of Prime Minister Benjamin Netanyahu and Yedioth Ahronoth publisher Arnon "Noni" Mozes on Monday. Among other subjects, the quotes seemed to include the two discussing the circulation numbers of free newspaper and Yedioth Ahronoth competitor Israel Hayom.

A selection of the newly released quotes are given below:

Mozes: "Let's think for a minute about the legal details. It starts at two-thirds."

Netanyahu: "We need to tell Sheldon."

Mozes: "We need to say a number, not two-thirds." (Channel 2 claimed that the numbers discussed are Israel Hayom's circulation numbers)

Netanyahu: "We need to explain what the number is. Not to go down completely. Don't to go down to three thirds. Go down to two thirds."

Mozes: "When we started talking about numbers, it was 275,000 copies and today it's 325,000 copies. Do you understand why each passing moment causes a problem? We're going back to a situation where we're postponing it more, making it more difficult to solve. I'm trying to think, this Friday it's 400,000 copies. I'm trying to think of a formula of several ad pages."

Netanyahu: "What, can you limit its number of ad pages?"

Mozes: "Is there a problem? What's the problem? It's that there are government ads here. Thirty, fifty, seventy percent of the ads the state gives money for. That's not proper. I'm telling you this as an aside, but you can't have everything all at once."

Netanyahu: "Alright, I wrote that down, too. We won't take care of that now."

Mozes: "I'll say a number of copies and X percent capacity. Capacity is a term in journalism. In a free newspaper, above a certain number of copies the percentage of ads can't be high, which limits the damage it causes by lowering the price. We're trying to find something together."

Netanyahu: "I think that something that sounds reasonable, I'm just thinking out loud… Far be it for me to …"

Mozes: "We're trying to find something together."

Mozes came in for investigation for the fourth time on Monday. Channel 10 has reported that Israel Hayom founder and owner Sheldon Adelson is due to give his own testimony over the next few days.

Arnon Mozes is the publisher and owner of Yedioth Ahronoth Group, which includes Ynet.