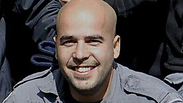 Family, friends and policemen visited the family of Sgt. Maj. Erez Levi to offer their condolences after he was killed in what, according to police, was a car-ramming terror attack in the Bedouin village of Umm al-Hiran in southern Israel in the small hours of Wednesday.

Erez, 34, is survived by his wife Clara and two children aged 5 and 2 years old. He joined the Israel Police in 2002 and was recognized as a distinguished policeman in his unit in 2012.

Speaking in an interview with Ynet, Clara's uncle, Morris Shushan, described Erez as a great man.

"He was a wonderful father, there was not a drop of badness in him. He was conscientious and helped his mother-in-law...There was nothing he wouldn't do," Shushan said.

"The family is simply mentally destroyed," he added. "The small children are asking 'where is daddy, where is daddy?' What can you say to them? Erez was (so wonderful)."

A neighbor of the Levi family said that she only had good things to say about Erez. "We are in shock. He didn't deserve this," she said.

Erez was killed during violent clashes in the Bedouin village of Umm al-Hiran in southern Israel, when police and other security forces arrived in the village to carry out a demolition order against illegally constructed homes.

Residents claim that the man in the car was shot for no reason and did not attempt to harm anyone. However, police said: "As (security forces) were getting there, a car of a terrorist from the area suddenly appeared, an operative of the Islamic Movement, and sped toward the soldiers with intent of carrying out a car-ramming attack."

The violence, which included the exchange of gunfire between police and the village's residents, broke out after one resident, Musa Abu Alqiyan, attempted to ram his car into security forces and was shot to death.

As the level of violence rose, Arab MKs from the Joint List clashed with police at the village.