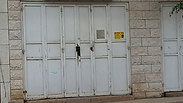 Arab businesses on strike
Arab sector calls general strike in protest of home demolitions
Arab businesses and public institutions shut down in wake of demolitions, with anger stoked by Wednesday's incident in which a man was shot dead in Bedouin village after what police say was a deliberate car-ramming attack: 'We will not be quiet...We're against demolitions against anyone.'
Arab communities declared a widescale general strike of public institutions and businesses Thursday in protest against the demolition of illegally constructed homes in the Bedouin village of Umm al-Hiran in southern Israel the previous day.

The strike was also called to protest against demolitions ordered on the same grounds which took place last week in Qalansawe in central Israel.

The Arab Monitoring Committee also announced three days of mourning as an expression of solidarity with the family of Yaqoub Musa Abu Alqiyan, who Israeli authorities say was shot dead after carrying out a car-ramming terror attack that killed policeman Sgt. Maj. Erez Levi, 34, in Umm al-Hiran on Wednesday morning.

Another officer was moderately wounded in the alleged attack.

Residents of the village and Arab MKs however, vehemently denied that Alqiyan deliberately ran anyone over, claiming that he was shot 'in cold blood.'

Students protest home demolitions

Despite the strike, school students are to attend schools as usual where they will receive lectures on the subject of home demolition.

Moreover, protest marches are expected to take place inside the schools themselves.

Dozens of students from "Jamal Tarbiya" high schools in the northern district town of Sakhnin staged demonstrations on Thursday morning waving Palestinian flags and stating their opposition to home demolitions.

"We will not be silent, whether it is in Qalansawe, Arraba and Hurfeish or any other place, and it doesn't matter whether we are talking about Arabs or anyone else," one student said. "We are against violence, home demolitions and expulsion of families."

Asraf Abu Ali, a resident of Qalansawe who was presented with a demolition decree added: "The demolitions are extremely concerning for us. The government is doing us a great injustice. We live on our soil and no official has any right to expel us from the place in which we were born...It is as if we are not people."

Footage released by the police of the alleged car-ramming attack

Another resident from the Negev accused the government of racism. "Its police only harms Arab citizens. Netanyahu makes hard decisions only while an investigation is being conducted against him," said Said. "He wants everyone to focus on other issues so they ignore his. That shows just how under pressure he is."

The conflicting versions of the circumstances surrounding Alqiyan's death continue to be at odds with one another, as the anger spills over into a second week, and reinvigorated by Wednesday's violent events.

By Wednesday afternoon, Israeli authorities had released footage filmed from a helicopter clearly showing that Alqiyan accelerated toward a group of security personnel, which they claimed buttressed the version put forth by police.

However, the video also showed a flash emanating from one of the officer's guns while Alqiyan was still driving slowly, indicating that he lost control of his vehicle only after being shot as he attempted to flee the scene. It was this, claim his supporters, that caused him to accidently hit the policemen.