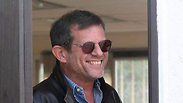 Tiefenbrunn arriving at the police offices to give testimony
Photo: Motti Kimchi
Former Ynet editor gives testimony to police in Netanyahu-Mozes investigation
Eran Tiefenbrunn, who was Ynet's editor-in-chief at the time of talks between the prime minister and the Yedioth publisher regarding changing the paper and site's coverage of Netanyahu, was called in to testify after his name came up in one of the talks.
Former Ynet editor-in-chief Eran Tiefenbrunn arrived at the Israel Police's national crimes and corruption unit Lahav 433 on Thursday morning to provide testimony in the ongoing investigation into Prime Minister Benjamin Netanyahu's dealings with Yedioth Ahronoth publisher Arnon Mozes, who also owns Ynet.

Tiefenbrunn's name was raised in the talks between Netanyahu and Mozes. In a transcript of one of the conversations, made public by Channel 10 journalist Guy Peleg, the prime minister and Yedioth publisher are discussing who would talk to Yedioth's editor-in-chief Ron Yaron and then-Ynet editor-in-chief Tiefenbrunn concerning the changes in coverage they were negotiating.

Yedioth Ahronoth editor-in-chief Ron Yaron and Amos Regev, the editor-in-chief of the Israel Hayom daily, also provided their testimony in recent days.

Minister of Environmental Protection and Jerusalem Affairs Ze'ev Elkin also arrived at the police offices to give his testimony in the case on Thursday.

Elkin served as the chairman of the coalition in the previous government, when legislation that could hurt the Israel Hayom daily was being promoted in the Knesset.

On Wednesday, Communications Ministry director-general Shlomo Filber and journalist Avi Ratzon gave their testimony.

Filber served as the head of the Likud campaign during the 2015 elections.

At the time, he and Netanyahu signed an affidavit submitted to the Central Elections Committee in which they declared there were no ties between the prime minister and the free daily Israel Hayom. This they did in an effort to refute allegations that Netanyahu was using the newspaper for propaganda in violation with the law.

After the elections, Netanyahu appointed Filber as the director-general of the Communication Ministry, which is still under the prime minister's control.

Journalist and soccer commentator Avi Ratzon, known for his right-wing views, was also summoned to testify after his name was also mentioned in conversation transcripts leaked on Saturday on Channel 2.

According to the transcript, Netanyahu offered Ratzon as a possible new writer for Yedioth Ahronoth. Mozes reportedly rejected the suggestion, telling the prime minister: "Drop this, I need to protect you from yourself."

Arnon Mozes is the publisher and owner of Yedioth Ahronoth Group, which includes Ynet and Ynetnews.