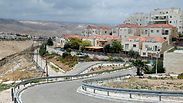 Ma'ale Adumim
Photo: Reuters
After US President-elect Donald Trump is sworn in on Friday, Bayit Yehudi leader Naftali Bennett plans to start pushing for the annexation of Israeli settlements in the West Bank.

The opening shot will come in the form of a bill proposing to annex the settlement of Ma'ale Adumim. The legislation proposal will put the different partners in the coalition in a difficult situation. On the one hand, many senior ministers have called to unilaterally apply Israeli sovereignty to settlements under dispute to make the most of the window of opportunity provided by the administration change in the US.

However, making such decisions without the government having formulated its policy on the matter could lead to international anger and cause problems further down the line.

Despite this, the heads of the Knesset's Land of Israel Lobby, MKs Bezalel Smotrich (Bayit Yehudi) and Yoav Kish (Likud) have already announced they will bring the Ma'ale Adumim annexation bill to a vote at the Ministerial Committee for Legislation on Sunday.

It is yet unclear whether the bill has sufficient support to the first hurdle, and whether it will be eventually made into law. There is also a possibility the vote will be postponed and not take place on Sunday.

Political officials said the Likud and Bayit Yehudi support of the bill makes it likely it will pass. But not all in the coalition support it. Defense Minister Avigdor Lieberman has already spoken out against proposals of this nature, saying such bills were harmful to the settlement enterprise and will not resolve the complex issues in the West Bank.

"Ma'ale Adumim is located in an area that has always been an inseparable part of historical Israel, the birth place of the people of Israel," the bill proposal states. "The city is located at a crossroads that has a strategic importance both to securing the road to Jerusalem and as a central junction connecting the Jordan Valley, the Judean desert, and Jerusalem."

The bill proposal further states that "the right of the people of Israel to these areas has been recognized by world nations in the Balfour Declaration and in the San Remo Resolution, both of which provided international legitimization to the historical connection between the Jewish people and the Land of Israel, and their right to rebuild their national home there. This recognition of the United Nations in the Jewish people's right to establish their state in their land cannot be taken away. These statements, which appear in Israel's Declaration of Independence and define the people of Israel's historical and legal right to their land, are true for the city of Ma'ale Adumim as well."

The proposal also notes that applying Israeli sovereignty on the city will not significantly change the demographic situation in Israel or harm the state's democratic nature.