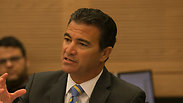 Mossad director Yossi Cohen
Photo: Ohad Zwigenberg
State Attorney to determine whether to launch probe against Mossad director
Civil Service Commission is looking into information according to which Yossi Cohen received gifts worth thousands of shekels from James Packer, the Australian businessman suspected of also giving illicit gifts to the Netanyahu family.
State Attorney Shai Nitzan was asked to determine whether to turn an initial desciplinary examination of the conduct of Mossad director Yossi Cohen into a full-blown investigation.

According to reports on Channel 10 and Haaretz, the Civil Service Commission is looking into information according to which Cohen received gifts worth thousands of shekels while he was the head of the National Security Council from Australian businessman James Packer.

These gifts include 6-10 tickets to see Mariah Carey—at the time was Packer's fiancée—performing in Israel and hosting Cohen in Packer's luxury suite at the Royal Beach Hotel in Tel Aviv.

Packer is also suspected of giving illicit benefits to Prime Minister Benjamin Netanyahu and his family.

Recently, the head of the disciplinary department of the Civil Service Commission, Assaf Rosenberg, has asked the state attorney to determine whether to continue the initial examination, launch an investigation, or close the case.

Mossad director Cohen declined to comment on the matter.

According to Channel 2, the prime minister's son, Yair Netanyahu, was asked by police earlier this week mostly about the Netanyahu family's relationship with Packer.

The name of another businessman, multi-billionaire Arnon Milchan, was also raised during the junior Netanyahu's testimony, as someone who gave illicit gifts from time to time not just to the prime minister and his wife Sara, but also to their son Yair.

Prime Minister Netanyahu himself is expected to be questioned again in the coming days both regarding suspicions he received illicit benefits and suspicions concerning his talks with Yedioth Ahronoth publisher Arnon Mozes on changing the newspaper's coverage of the prime minister.