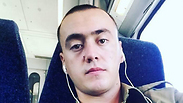 Hundreds of people arrived at the Rishon Lezion cemetary on Thursday afternoon to pay their final respects to Cpl. Viachislov (Slava) Gregai, who was killed in an accident on Monday while working on an armored personnel carrier (APC), after his mother called on the public to attend the funeral.

Lt. Col. Adi Ganon, Gregai's battalion commander, eulogized the soldier: "Even though he was a new recruit, Slava showed great professional capabilities that impressed his commanders. Those who knew him encountered a caring man who was always the first to volunteer and carry out any assignment. His commanders viewed him as a leading, responsible soldier with the potential of becoming an officer in the future."

"Slava, our dear friend, our brother," said his friends Shir and Razek, "several months ago you arrived at our platoon, a small unit functioning like a family. You immediately caught on to that and within only a few days you were an inseparable part of the platoon."

"No one can comprehend the extent of this disaster that befell us," the friends continued. "A regular day became in an instant a sad, dark day. You left us scarred for the rest of our lives. We're broken in spirit but strong in mind. We're crying and we mourn your loss along with your family, that has now become our family. We hope you find peace where you're going and help us stay strong from up above."

The IDF is still investigating the circumstances of his death. The 20-year-old new immigrant from Ukraine was killed when he suffered a serious blow to his upper body from a piece of steel while doing routine maintenance on the APC at the El Furan base in the Golan Heights.

He received initial treatment by his friends and army medics and then airlifted to the Rambam Medical Center in Haifa, where he was declared dead.

Ahead of the funeral, Gregai's mother called on the public to attend his funeral, worried few will come because her son does not have a lot of relatives in Israel.

"He loved his country. He told me, 'Mom, I have to give something of myself,'" his mother Tania Gregai said.




His step-father Dennis Gregai added, "He was a very good boy, he desperately wanted to go to the army. I only have good memories from him."

"He wanted a military career. He prepared and trained for that. He wanted to serve in the army and that was his dream," his grandfather Michael Federbush said.

He said his grandson's last break from the army was when he had a cold. "His mother asked him to take sick days, but he insisted to go back to the army," Michael said.