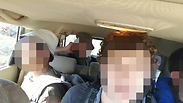 The four Israelis and their rescuers
Photo: Zacharia Sada
Palestinians rescue 3 armed IDF soldiers and civilian from Palestinian village
Three soldiers and one Israeli civilian manage to evade a potential harm when they entered the Palestinian village of Qusra in the West Bank; when an altercation with the locals broke out, the soldiers shot into the air; they were extracted by the head of the local council and a local activist; the reason for their being there is still investigated by the IDF.
Two Palestinians managed to rescue a group of three IDF soldiers and one Israeli civilian on Friday from possible physical harm. The soldiers were on leave when the group arrived at the Palestinian West Bank village of Qusra. The reason for their being there in the first place is yet unknown.

After villagers identified the four men as non-locals, an altercation began between them and the four visitors, during which the soldiers used their rifles to shoot in the air.

The moment of rescue

The IDF issued a statement on the matter, saying that "A report was given on several Israelis near the vollage of Qusra. After investigating them, it appears that they are three soldiers on leave and a civilian. Palestinians who were grouped near them began to throw rocks, at which point the Israelis responded by shooting in the air. They were then joined by security forces. The matter is currently being investigated."

Qusra Regional Council head and a Palestinian who works for a rabbinical human rights organization eventually rescued the four Israelis by driving them out of the area. In the accompanying video, the Israeli men are heard spurring them to go faster and stressing that if it comes to it, "We've got our weapons."

The Palestinian rescuers contacted the IDF and Israel Police and transferred the Israelis to their custody. Three years ago, a group of young settlers also entered Qusra, with the suspected intent of committing a hate crime. They were discovered by local Palestinians, who began to surround them until the young settlers ran into a nearby house. They were saved when the village's council head stood between them and the villagers. The IDF was then called upon, with it eventually extracted the boys from the village.