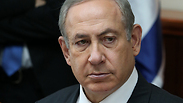 PM Netanyahu
Photo: Amit Shabi
The billionaire Arnon Milchan claimed in evidence given in "Case 1000" that Prime Minister Benjamin Netanyahu and his wife Sara insisted on receiving gifts of expensive cigars and wine, Haaretz reported on Friday.

Case 1000 is an ongoing investigation into allegations that the Netanyahus received gifts worth hundreds of thousands of shekels from several wealthy businessmen.

Milchan also reportedly claimed that those involved used code words for the cigars and pink champagne that he provided to the prime minister and his wife.

"According to evidence collected in the case, 'pinks' was the word used by residents of the Prime Minister's Residence as a signal to replenish their supply of bottles of pink champagne, allegedly provided by the billionaire businessman Arnon Milchan. 'Leaves' was reportedly code for the fancy cigars that Milchan is thought to have sent to Netanyahu every two weeks," Gidi Weitz reported.

According to the report, "Milchan's statements to police are thought to be the turning point in the affair." Weitz also wrote, "Receipts and credit-card records suggest a pattern of regular purchases… Even before this development, intelligence information showed a pattern in which tycoons were asked to purchase expensive items for Netanyahu, but the evidence was based on testimony taken and confiscation of evidence on the Milchan-Netanyahu axis."

Thursday, State Prosecutor Shai Nitzan addressed the ongoing investigations of the prime minister and rejected the idea that political considerations played a role."We won't take a decision just to please somebody or to satisfy a certain public sentiment. This has never been the case and never will be," Nitzan said.

He added, There is obviously a significant difference between the threshold of evidence that constitutes 'reasonable suspicion' against a suspect, which justifies opening an investigation against him, and the threshold of evidence required for an indictment, for which we would require that the evidence indicate a reasonable likelihood for a conviction."