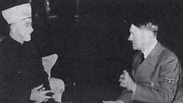 Hitler and Amin al-Husseini
Prior to the establishment of the State of Israel, the British government was making it "easy for Arabs to arm" and actively encouraging the former Grand Mufti of Jerusalem, Mohammed Amin al-Husseini, to denounce partition, according to a document recently declassified by the CIA.
The document, which is dated January 1947—ten months prior to the partition of Palestine—details a meeting between the Grand Mufti and Afif Tibi, owner of a Lebanese newspaper and—according to the document—"a former Nazi collaborator."
During the meeting, al-Husseini discussed his attitudes toward the mandate regime and the Jews living within the territory.
The Mufti was completely opposed to the prospect of any Jewish governance over any piece of territory in the mandate and further asserted that the Arab population would resort to arms and attack the Jewish populace should the partition plan go ahead.
He was so opposed that he said, "the continuation of the regime of the mandate is infinitely better than any partition scheme." Al-Husseini believed that if Jews were allowed to assume real power, they would arm themselves and embark upon a campaign to acquire more territory.
Tibi further noted that he had never seen the Mufti "so pro-British" and attributed this to the British being in constant contact with the Mufti and encouraging him to denounce the partition, as well as "making it easier for the Arabs to arm."
The document is part of a cache of documents recently declassified and released by the CIA.