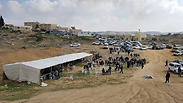 Umm al-hiran
Photo: Roee Idan
The High Follow-Up Committee for Arab Citizens of Israel HFUC has announced it will raise the funds required to rebuild the illegal homes recently demolished by Israeli authorities in Umm al-Hiran and Qalansuwa.

The committee also decided to hold a major protest rally in Wadi Ara Saturday. The valley and hilltops are one of the most densely populated Arab majority areas in Israel. The biggest city in the area is Umm al-Fahm, one of Israel's biggest Arab cities.

Highway 65, one of the country's major arteries which connect the coastal plain to the Jezreel Valley and which go through the valley, was blocked by protesters. In the past, protests in the area have resulted in violent clashes when police attempted to prevent demonstrators from closing the road, which can cause major traffic jams over a large part of the country.

The committee also said protests would continue to take place in Arab cities, towns and villages throughout the country, and that on Monday a protest convoy would drive slowly from various

Arab towns to the Prime Minister's Office in Jerusalem, where a protest rally would be held.

The committee should have no problem raising the necessary funds, as it has a large network of support in Qatar, Turkey, and other Arab and Muslim countries, and in the past has raised funds to rebuild homes demolished by Israeli authorities. In addition, it also gets EU funding.