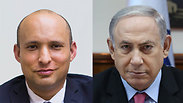 Netanyahu and Bennett
Photo: Daniel Elior and Amit Shabi
Minister of Education and Chairman of Bayit Yehudi, Naftali Bennett, is expected to postpone a discussion on the Annexation Law of Ma'ale Adumim, which is supposed to be up for a vote Sunday in the Ministerial Committee for Legislative Affairs.

Bennett will decide whether or not to raise the issue again after a meeting of the security cabinet, where Prime Minister Benjamin Netanyahu is expected to present Israeli policy to the new Trump administration.

In this case, the committee may convene a special session to vote on the issue of annexation.

Recently, Bennett spoke decisively about the demand to formulate strategic policy with the new government in Washington, especially in regards to construction in the West Bank and Jerusalem.

Many have voiced similar opinions, including former minister Gideon Saar, who wrote on his twitter account: "Trump is already here. Time to act. A historic move is needed: start the process of having sovereignty over Jewish settlements. A Trump-Netanyahu meeting in February—crucial.".

Tomorrow, following the cabinet meeting, Bennett will decide how to proceed. Bennett intends to bring a broad plan around the concept of "sovereignty instead of Palestine" (sovereignty over settlements) to the government agenda. The plan is expected to be centered around settlement construction and a settlement arrangement.

Sources close to Bennett said that in recent weeks, Trump advisors have asked to know Israeli policy and what the government wants, thus presenting a unique window of opportunity that may not come back.

The description of the bill states that "The right of the people of Israel to these regions was also recognized by the nations of the world, the Balfour Declaration and the San Remo Conference, which internationally sanctioned the international connection between the Jewish nation and the land of Israel, and (the Jews') right to re-establish its national homeland."

The bill also states that "this recognition given by the UN for the Jewish people to establish a state on its land is irrevocable. These statements, as written in the Declaration of Independence of the State of Israel, and which define the historic and legal rights of the Nation of Israel to its land also ring true. There is a broad consensus within Israel and the world regarding Israeli sovereignty over Ma'ale Adumim."

The proposal states that extending sovereignty over Ma'ale Adumim doesn't significantly change the demographic balance in Israel, and doesn't affect Israel's democratic nature.

"It is proposed that Israeli law, jurisdiction, and administration should be applied to Ma'ale Adumim, and reinforce its status as an integral part of the state of Israel."

Sources in the Trump administration have advised the Israelis not to surprise the Americans with unilateral moves, and have requested that moves such as this be done bi-laterally. With that being said, sources close to Bennett have clarified that as of now, the sovereignty bill is due to be voted on at 6:00pm Israel time.