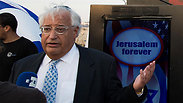 Ambassador Friedman
Photo: EPA
The new American Ambassador to Israel, David Friedman, has decided not to live in the Ambassador's Residence in Herzliya, and rather declared his intention to "work and live in Jerusalem."

Although his appointment has not yet been approved by the Senate, Friedman is expected to arrive in Israel at the end of February and assume his position as ambassador. In private talks, Friedman expressed his intention to live in Jerusalem regardless of the decision to move the embassy to Jerusalem.

Friedman owns a spacious apartment in the Talbiyeh neighborhood of Jerusalem, which he visits several times per year.

The Foreign Ministry claims Trump's intention to move the embassy from Tel Aviv to Jerusalem is serious and intended to prove he is serious about fulfilling his campaign promises. However, Jerusalem has decided to not take an active role in the campaign as it is an internal, American decision and Israel cannot be perceived as pressuring the American government to make the controversial move.