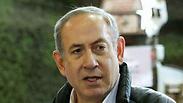 Prime Minister etanyahu
Photo: TPS
Netanyahu: Regulation Bill is an 'irresponsible move'
Despite previously supporting the controversial legislation, PM now says it might have prompted the UN Security Council resolution against the settlements; Bennett sets ultimatum to Netanyahu: Renounce two-state solution, or Ma'ale Adumim annexation will pass.
Despite having supported the Regulation Bill in the past, Prime Minister Benjamin Netanyahu criticized the proposed legislation on Sunday, calling it an "irresponsible move."

"It's possible that the UN Security Council resolution (against the settlements) passed because of the advancement of this legislation," Netanyahu said.

He clarified that "there is no one who takes care of the settlement enterprise more than me and the Likud government. We'll continue taking care of it wisely."

The Regulation Bill seeks to retroactively legalize thousands of homes in the settlements built on privately-owned Palestinian lands.

The Ministerial Committee for Legislation approved a draft of the bill in November 2016 that determined the land will continue to be owned by its Palestinian owner, but the state will maintain the right to use the land.

The UN Security Council's Resolution 2334 determined that the Israeli settlements built on disputed lands were illegal. The major threat presented by the resolution is that it opens the door for lawsuits against Israel and its officials at the International Criminal Court at The Hague, as well as for sanctions against Israel imposed both by the UN and by other countries.

Meanwhile, Education Minister Naftali Bennett has set an ultimatum to the prime minister, calling on him to renounce the Bar-Ilan speech and his support of the two-state solution.

"My strategic objective is to get Netanyahu to backtrack on the Bar-Ilan speech," Bennett said in private conversations.

On Sunday, Bennett said he was "confident all government ministers and Likud ministers will support applying Israeli sovereignty to prevent an ISIS nation on Highway 6. Sovereignty comes before politics. Security comes before politics."

If Netanyahu doesn't comply with Bennett's ultimatum, the education minister has threatened to bring the legislation to annex Ma'ale Adumim to a vote at the Ministerial Committee for Legislation at 6pm Sunday.

"I'm hearing different messages from (US President) Trump," Bennett said. "They (the Americans) want us to make a decision. The right thing to do it to decide now, because there's a very short window of opportunity before the State Department comes into the picture and foils any change to policy."

When asked about Bennett's ultimatum, the prime minister said he was "waiting for a conversation and a meeting with Trump to coordinate on Judea and Samaria and Iran."

Moran Azulay, Kobi Nachshoni, Itamar Eichner, Tova Tzimuki contributed to this story.