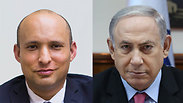 Bennett (L) and Netanyahu
Photo: Daniel Elior and Amit Shabi
Israel pushes ahead with development of disputed territories as Trump takes office
Following inauguration of US President Donald Trump, right-wing members of Knesset push for more development in east Jerusalem and the West Bank settlement of Ma'ale Adumim; Education Minister Naftali Bennett tweets, 'For the first time in 50 years, the prime minister can decide: either sovereignty or Palestine.'
The city of Jerusalem granted final approval Sunday for the construction of hundreds of new homes in east Jerusalem, while Education Minister Naftali Bennett (Bayit Yehudi) pushed the government to annex a major West Bank settlement as emboldened Israeli nationalists welcomed the presidency of Donald Trump.

After eight years of testy ties with former President Barack Obama, Prime Minister Benjamin Netanyahu has said he is looking forward to a new era of close relations with the US under Trump. The two were scheduled to talk on the phone later Sunday.

At his weekly cabinet meeting, Netanyahu thanked Trump for his friendship and his inauguration speech pledge to battle radical Islamic militants. He said that among other issues, they would discuss the Israeli-Palestinian conflict, the situation in Syria and the Iranian threat.

More hawkish elements in his coalition, however, are already calling for concrete action given Trump's perceived acquiescence to Israeli settlement building.

Bennett, for his part, pressed the government to back legislation that would annex West Bank settlement of Ma'ale Adumim. He also urged Netanyahu to abandon his stated position in favor of a Palestinian state alongside Israel.

Netanyahu has nonetheless been cautious about expanding them in the face of strong opposition from the US and other Western allies. With Trump signaling a much softer line toward the settlements, Israeli hard-liners say there is no longer any reason to show restraint.

Senior ministers later voted unanimously to postpone discussion on a bill proposing the annexation of Ma'ale Adumim, home to 40,000 Israelis near Jerusalem. A statement said the proposal would be put on hold until after Netanyahu meets Trump.

"For the first time in 50 years, the prime minister can decide: either sovereignty or Palestine," Bennett wrote on Twitter.

A Bayit Yehudi official said Netanyahu urged Bennett to put his proposal on hold. According to the official, who spoke on condition of anonymity, Netanyahu said he had been asked by Trump administration officials not to take any major action without proper coordination.

The official said Bayit Yehudi members were skeptical of Netanyahu's claims and would continue to push the government to approve the annexation measure. Netanyahu's office declined to comment.

Such a move would cause a major clash with the Palestinians and the much of the international community that considers settlements to be illegal, and annexing Ma'ale Adumim would be seen as undermining negotiations. It is also in a strategic location in the middle of the West Bank that could impede the establishment of a future Palestinian state.

In the meantime, the Jerusalem municipal housing committee granted building permits for 566 new homes in east Jerusalem. The permits had been put on hold for the final months of the Obama administration.

Building is planned in the neighborhoods of Ramot, Pisgat Ze'ev and Ramat Shlomo.

"We've been through eight tough years with Obama pressuring to freeze construction," said Jerusalem Mayor Nir Barkat. "I hope that era is over and we we can now build and develop Jerusalem for the welfare of its residents, Jews and Arabs alike."

Deputy Mayor Meir Turjeman, who heads the committee, said an additional 11,000 homes were planned in east Jerusalem. He said he hopes to get the plans approved by the end of the year and begin construction in the next two to three years.

Israel clashed frequently with Obama over construction in areas it conquered in the Six-Day War. Last December, the Obama administration allowed the UN Security Council to pass a resolution condemning settlements as illegal.

Trump has signaled he will take a far kinder approach to them. His appointed ambassador to Israel has close ties to Jewish West Bank settlements as does the foundation run by the family of Trump's son-in-law, Jared Kushner. Tax records show Trump also donated money to a Jewish seminary in a settlement.

In a sign of the changing times, a delegation of West Bank settler leaders said it was invited by Trump administration officials to attend the inauguration.

Netanyahu said Jews have been in these areas for centuries and that their presence does not undermine prospects for peace. He blames failed peace efforts on Arab denials of Jews' historical connections to the land.

Nabil Abu Rdeneh, a spokesman for Palestinian President Mahmoud Abbas, condemned the building plans and called on the UN to act. "It is time to stop dealing with Israel as a state above the law," he said.