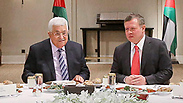 Abbas and Abdullah
Photo: AFP / Yousef Allan / Jordanian Royal Palace
Jordan's monarch met with Palestinian President Mahmoud Abbas on Sunday in Amman and discussed the potential relocation of the American embassy in Tel Aviv to Jerusalem.

According to the official Palestinian news service Wafa, King Abdullah II and Abbas also "discussed ways to develop bilateral relations between Palestine and Jordan as well as the latest developments in the region."



Speaking to reporters after the meeting, Abbas said that the potential embassy relocation, a stated intention of new American President Donald Trump, "is an important matter for the king and an important matter for us. There will be no alternative to coordinating and articulating action points with one another to fight any steps that, if acted upon, would have severe ramifications."

The two heads of state emphasized the importance of coordination with the Trump administration and US Congress during their meeting. They held it to be important to explain to them that decisions that damage the status quo in Jerusalem would have ramifications on regional peace and security. Jordan has yet to send its congratulations to Trump on his assuming office.

Dr. Hayel Dawood, Jordan's Minister of Religious Endowments and Islamic Affairs, gave an interview to Palestinian media after the meeting. He said that Trump's stated intention to relocate the embassy was "a dangerous development that requires an offensive position against it." He added that the relocation "constitutes a death blow to Washington's role as a fair mediator in negotiations between Israel and the Palestinians and disregard for international resolutions that consider Jerusalem occupied territory."

Dawood explained that Arab and Muslim and Islamic countries needed to seriously oppose the proposed move to convince the US that carrying it out would endanger their interests. He also warned that other countries were likely to follow America's example and move their own embassies to Jerusalem.