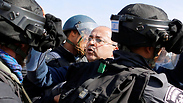 The pathologist's report on Yaqoub Abu al-Qiyan from Umm al-Hiran strengthen the claim that his running over and killing an Israel Police officer was not a terrorist attack, contradicting the declarations of the police chief and the minister of public security.

Last week, Abu al-Qiyan was shot dead by police officers in an incident when he ran over their colleague Erez Levi in Umm al-Hiran. Israel Police Commissioner Roni Alsheikh and the minister who oversees his force, Gilad Erdan, both publicly declared that this was absolutely a terrorist attack.

However, aerial footage showed that police opened fire at Abu al-Qiyan while was car was travelling slowly. Only after shots were fired at him did he suddenly accelerate and run over Levi. The post-mortem performed at the Institute of Forensic Medicine found that a bullet wounded Abu al-Qiyan in the knee that depressed the gas pedal. According to some assessments, this bullet to his leg may have been what caused him to accelerate. This has been referred to in Israeli media as "locking" his knee.

A source who has seen the pathologist's report said that it does not irrefutably state whether the bullet to the leg caused the crash, but the officials' steadfast assertions are not confirmed either.


Another detail that the report revealed is that a gunshot to Abu al-Qiyan's chest caused massive bleeding that lasted for 20 to 30 minutes. When Magen David Adom paramedics were permitted to provide medical treatment, they only could declare the man dead. It is possible that Abu al-Qiyan would have remained alive had medical teams been permitted to treat him sooner.

Erdan repeated on Saturday night that this was a vehicular terrorist attack: "The police immediately launched an investigation after a police officer was run over at the scene, which indicated that this was a planned vehicular attack of a terrorist."

Alsheikh, speaking Sunday morning, was somewhat more reserved in his pronouncements. He clarified that he originally termed Abu al-Qiyan "a 'terrorist' because everything that we had seen before our eyes (said) that this was a vehicular attack, and there is not currently evidence that contradicts that." He specifically addressed the bullet to Abu al-Qiyan's knee: "There's no such thing as the knee locking. To press on the gas, you need to apply pressure."

He further addressed the delay in providing medical attention, "I don't know what to say—if there was a delay in medical treatment, we'll know when the investigation is completed. Then we'll be able to know if something isn't all right…It could take a week or two."

MK Ahmad Tibi (Joint List) said on Saturday night, "I demand that Minister Erdan, the prime minister and the chief of police apologize to the Abu al-Qiyan family and to the public. The clear finding requires personal drawing of conclusions amongst all those who rushed to claim that this was a terrorist, an attack, and ISIS. Yaqub, who was shot by the police, is a victim of the trigger happy and the immediate cover (provided)."

Speaking to Ynet on Sunday morning, Tibi insisted on the establishment of a governmental investigation into the matter. He said that Abu al-Qiyan "was killed twice: once when he was shot and once when somebody decided to allow him to die, to kill him by not providing access to medical care."

He clarified his position on what he meant by "drawing conclusions," saying that it meant resignation or firing .