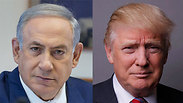 Netanyahu and Trump
Photos: Emil Salman, Reuters
In their first conversation since US President Donald Trump was inaugurated, Prime Minister Benjamin Netanyahu was invited to the White House for a meeting next month.

A White House statement on the call said the meeting will be held early next month, while Jerusalem noted that the date and time of the visit will be determined in the coming days.

"The Prime Minister expressed his desire to work together with President Trump on their shared vision to promote peace and security in the region without having gaps between the US and Israel," said a statement from the prime minister. "The two leaders discussed the Iranian deal, the peace process with the Palestinians and other issues."

The White House said that the two "discussed ways to advance and strengthen the special relationship between the United States and Israel and the security and stability of the Middle East. The President emphasized the importance the US places on close military, intelligence and security cooperation with Israel, which reflects the deep and binding partnership between the two countries."

The statement also mentioned that the two "agreed to continue to discuss regional issues closely, including the Iranian threat," and that President Trump once again confirmed the US's unprecedented commitment to Israel's security and stressed that the fight against ISIS and other radical Islamic terrorist groups is a top priority for the US government.

"President Trump stressed that a Israeli-Palestinian peace agreement can only be achieved through direct negotiations and the US will work closely with Israel to achieve this goal," read the statement.

The White House issued a statement on the call without referencing the issue of transferring the US embassy to Jerusalem from Tel Aviv.

While sources close to the American president said no official announcement on the issue is expected anytime soon, the State Department has already sent an architect to Jerusalem to examine American properties in the capital.

Among the possibilities that are being examined: Having the American ambassador living and working from the Jerusalem consulate building; having the embassy moved to one of the consulate buildings in the capital, or building it on land owned by the United States in Jerusalem.