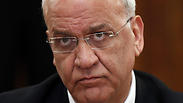 Palestinians threaten consequences if US embassy moves to Jerusalem
Palestinian officials are threatening to revoke recognition of Israel, have Israel suspended from the UN and to sign agreements with international organizations to prosecute Israel if President Trump moves the US embassy to Jerusalem.
Senior PLO official Saeb Erekat threatened on Monday that the Palestinians will revoke recognition of the State of Israel and seek to have Israel suspended from the UN if the United States moves its embassy from Tel Aviv to Jerusalem.

"The PLO will not be able to continue to recognize Israel as east Jerusalem is annexed," Erekat said in an interview with Ynet.

During the interview, Erekat pointed the finger at the Israeli government saying, "The Israeli government is aligning itself with the most extreme, white supremacist, nationalist, populist parties in Europe and the United States against Arabs and Muslims; these people are inciting war against the values and concepts of Arabs and Muslims.

"I hope that Trump will not do it and we urge him not to do it. We urge him to try and bring Israelis and Palestinians back to the negotiating table."

In a heated exchange, Erekat said, "Palestinians intend to fight for the freedom of the Palestinian people and for Israeli seekers of peace. Israel is working to annex the lands of the Palestinian people. Israel is working to humiliate people and create an apartheid regime for West Bank Palestinians and steal their land and confiscate their future and their hope. Stop your blind Israeli policy. It is time to wake up. If you want to be part of the Middle East, you cannot continue with the arrogance of your power. "

Meanwhile, in a separate interview with Ynet, Mayor of Jerusalem Nir Barkat said that he believes US President Donald Trump is serious about keeping his campaign promise of moving the embassy. "I think everyone knows that the American administration is very serious in its intention to support the State of Israel and the moving of the embassy is a part of the decisions Trump made before his campaign. I have no doubt he will make it happen," said Barkat.

In regards to Palestinian threats, Barkat said, "I think we need to listen well to the threats and to take them seriously, but not move an inch from doing the right thing. If we were afraid of the threats of our enemies, there wouldn't be a country. I expect the new American administration, which has great sympathy for Israel in contrast to eight difficult years under Obama, will be better and will ease demands for building freezes."