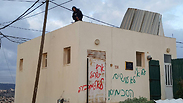 In response to an appeal made by Palestinian landowners, the High Court of Justice has issued a temporary injunction to prevent the implementation of work set to take place on land belonging to Palestinians residing in the village of Silwad in preparation for the impending evacuation of Amona.

The injunction prohibits the implementation of any infrastructural work or construction on the Silwad-owned land. The two sides have been given 72 hours to respond before the next set of discussions are held on the matter.

The Amona outlining wishes to resolve building matters for some of the settlers being evacuated by resolving outstanding building conflicts concerning land owned by Palestinians from the village of Silwad.

"Notice is hereby given for an interim injunction ordering the respondents to avoid implementing further infrastructural construction... until a different decision in reached," the HCJ stated.

The appeal was submitted by the Israeli NGO Yesh Din on behalf of the Silwad Council and a number of landowners who are proprietors of land next to Amona. Yesh Din Executive Director Neta Patrick issued a statement saying: "Palestinian landowners appealed to the HCJ in order to prevent the illegal seizure of land and to prevent the corrupt deal between the state and the people of Amona.

"We welcome the injunction that was granted and believe that the court will not lend a hand to fxing one injustice with a second injustice," the statement concluded.

Moreover, due to the collapse of the central details of the deal on Amona, the residents are adopting a more oppositional stance regarding the impending evacuation. Despite their commitment to the court that no resistance would be staged and that they would voluntarily evacuate the outpost, they have renewed their struggle. As part of their efforts, the Amona residents have decided to join forces with Ofra residents on the understanding that both evacuations will take place on the same day.