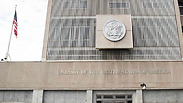 US Embassy to Israel
Photo: AFP
Trump lowers expectations for quick embassy move in Israel
Moving the US Embassy to Jerusalem was one of Donald Trump's campaign promises; however, the issue seems to be getting pushed farther and farther down the list of the new administration's priorities; Israeli official: 'sounds like walking it backwards.'
During the presidential campaign, Donald Trump's team spoke often about moving the US embassy in Israel from Tel Aviv to Jerusalem. But since taking office, the contentious issue has become more nuanced and may already be moving to the backburner.
In a statement issued before a first post-inauguration phone call between Trump and Israeli Prime Minister Benjamin Netanyahu on Sunday and later reinforced at a White House news briefing, Trump's press secretary, Sean Spicer, lowered expectations of an imminent announcement of a move that could anger the Arab world.
"We are at the very beginning stages of even discussing this subject," Spicer wrote in an email on Sunday. "There's no decisions," he then told reporters on Monday.
Some Israeli news outlets and Israeli pro-settlement groups have taken it as a positive sign, interpreting the words of the new Trump White House as an indication that talks have begun on a move they long for, even if it could have profound repercussions for regional stability.
But Israeli officials said the issue was barely discussed on the 30-minute call, and diplomats said their understanding was that it was being pushed down the agenda, at least for now.
"Sounds more like walking it backwards," one Israeli official said in a text message after Spicer's statement.
Another said that during the call Netanyahu had not sought a commitment from Trump on the relocation or a timeframe for it.
The former spokesman for Israel's foreign ministry suggested Spicer's line was age-old diplomatic code for "not now". "This really means: 'Don't call us, we'll call you'" Yigal Palmor said on Twitter.
Netanyahu's spokesman did not respond to requests for comment.
No embassy in Jerusalem
While the Israeli prime minister cannot be seen to oppose the United States moving its embassy to Jerusalem - Israel considers the city its eternal and indivisible capital and wants all countries to base their embassies there - there is an awareness that such a move could be destabilizing.
Currently, no country has its embassy in Jerusalem, the Israeli foreign ministry said. Costa Rica and El Salvador did until a few years ago, but they are now in Tel Aviv.
The reason is that the final status of Jerusalem is supposed to be determined via direct negotiations between the Israelis and the Palestinians, who want to have the capital of an independent Palestinian state in the east of the city.
If the United States were to relocate its embassy, it would be an explicit recognition of Jerusalem belonging to Israel, pre-determining the outcome of negotiations and taking a side in a process in which the United States is a critical actor.
Trump has suggested that his son-in-law, Jared Kushner, could take on the job of mediating peace between the Israelis and Palestinians. To do that, Kushner and the United States would have to be seen as scrupulously independent. For the Palestinians, moving the embassy would cross a red line.
Jordan and Egypt, the only two Arab countries with peace treaties with Israel, have warned against the move, as have former President Barack Obama and former Secretary of State John Kerry, saying it could be explosive for the region.
Palestinian President Mahmoud Abbas held discussions on the issue with King Abdullah of Jordan in Amman on Sunday. Palestinian officials said the king, who oversees the Muslim holy sites in Jerusalem, expressed concerns about any relocation. Abbas and the king agreed a list of steps they would take if the embassy move is made, one official said.
It is not clear what steps Jordan would take, but withdrawing its ambassador to Israel, halting security cooperation or suspending its 1994 peace treaty are all possible, analysts say. It also wants to ensure the large Palestinian population in Jordan does not react angrily.
Egypt, which signed a peace deal with Israel in 1979 and cooperates with it on security, also has reservations about any move, calling it a "very inflammable issue".
"I don't want to indulge in speculation about what might or might not happen, but I think everyone recognizes the importance of this issue," Foreign Minister Samed Shoukry told members of the foreign media at a briefing on Jan. 4.
"This is one of the final status issues that has to be addressed between the two sides ... it is our interest that all issues are resolved through negotiations."
Wider concerns
Another consideration for Israel is the stronger relations it has quietly been building with the Sunni Muslim world. Netanyahu speaks frequently about the "new horizon" Israel has with Saudi Arabia, Turkey and the Gulf states. If the United States were to shift its embassy, it could rock those ties.
Israeli officials say they don't want any move to be rushed. They believe the US embassy should be in Jerusalem, and Trump has said he will live up to his promise, but the decision has to be carefully thought through.
Spicer said on Monday that Trump had the power to make the embassy move by executive order. But he said: "His team's going to continue to consult with stakeholders as we get there."
Still, the practicalities alone are difficult. While the US government has several buildings in Jerusalem, including a consulate-general dealing with the West Bank, Gaza and Jerusalem, it cannot create an embassy overnight.
The incoming US ambassador, David Friedman, has told Israeli media he intends to live in Jerusalem, where he has an apartment. But shifting the entire embassy with all its security arrangements and commercial, trade, cultural and economic units from Tel Aviv to a new site in Jerusalem will take time.
In the interim, Netanyahu has other political considerations. He is under investigation in two criminal cases and he faces a growing challenge from the far-right, pro-settlement Jewish Home party in his coalition.
The announcement on Sunday that Israel will build more settlements in East Jerusalem was in part a move by Netanyahu to satisfy voters on the far-right pushing for more rapid settlement expansion now Trump is in office.