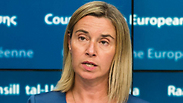 European Union Foreign Minister Federica Mogherini said that while the US may be moving its embassy from the Tel Aviv to Jerusalem, "the states of Europe will stay in Tel Aviv."

The comments were made during a meeting between the foreign minister and Israeli Minister of Regional Cooperation Tzachi Hanegbi in Spain on Monday night.

Minister Hanegbi also met with his Arab counterparts, and expressed his desire to continue to promote regional civilian projects, specifically in the fields of economics and agriculture. He also expressed his hope that Arab countries will strengthen their relations with Israel, and that trust will continue to be built between Israel and its Arab regional neighbors.

Mogherini was heading a meeting of Mediterranean countries in Spain, which included foreign ministers and representatives from dozens of European countries in order to strengthen Mediterranean regional cooperation, specifically Israel, Jordan, Egypt, Tunisia, Algeria, and Morocco.

Hanegbi led the Israeli delegation.

The two discussed a wide range of issues, with Mogherini expressing her worry over what might happen should the US move its embassy from Tel Aviv to Jerusalem. She noted that even if the US implements this move, the EU will have no intention of following suit, and the European ambassadors in Israel will remain stationed outside of Jerusalem. They will not go to Jerusalem until there is a final status agreement on the city between Israel and the Palestinians.

Minister Hanegbi clarified that moving the US embassy to the capital of Israel is an internal US affair which the US Congress has been discussing for several years.

He continued, saying that Israel will not get itself involved in the internal workings of the US Congress on this issue, and that the EU should also refrain from getting involved, despite Palestinian pressure on the Europeans.

The Minister also spoke to the EU Foreign Minister about trying to fight against international agreements which are critical of Israel.