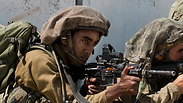 Paratrooper forces during Protective Edge
Photo: IDF Spokesman Office
Minutes of cabinet discussions during Protective Edge revealed
Transcripts of the charged cabinet discussions in the days leading up to, and during, the 2014 Operation Protective Edge show the IDF was unprepared to deal with the tunnel threat, the clashes with the military command and the heated arguments between the ministers.
The final State Comptroller report on the 2014 Operation Protective Edge in Gaza, which will be likely released to the public soon, will reveal everything that has happened in the months and years that preceded the military campaign, which was the bloodiest Israel has seen since the Second Lebanon War.

The minutes from the highly sensitive discussions, revealed here for the first time, show what happened in the moment of truth, when decisions were being made: The fact the IDF was unprepared to deal with the tunnel threat, just how disconnected the members of cabinet were from what was happening on the ground, and the breadth of the outward expressions of hatred among the country's leaders.

It was the night of June 30, 2014, hours after the bodies of Naftali Frenkel, Gil-Ad Shaer and Eyal Yifrach—three Israeli teens kidnapped and murdered by Hamas in Gush Etzion—were found after an 18-day search.

The atmosphere in the Security Cabinet was tense. Operation Protective Edge hadn't begun, but the winds of war were already blowing in the cabinet.

"Our response to this attack has been weak and disgraceful so far," Minister Naftali Bennett said of the kidnapping. "There are dozens of tunnels in Gaza meant for kidnappings."

The tunnels, he said, "aren't sitting there just to rust away"—a snide remark paraphrasing a comment made by former defense minister Moshe Ya'alon, who said before the 2006 Second Lebanon War that Hezbollah's rockets will rust away in their weapons depots.

"We have to go on an offensive action on the frontline," Bennett added.

Bennett's proposal was met with a sweeping objection from the cabinet.

"The tunnels are a real threat to the State of Israel and they could change the balance (of power) between us and (Hamas)," Prime Minister Benjamin Netanyahu said. "Bogie (Ya'alon), I ask that you present a plan (of action) tomorrow, including taking over the tunnel openings."

"Such a plan exists," Ya'alon responded.

"I'm not familiar with it," Netanyahu said.
July 1, 2014: 'The goal is to contain'
The kidnapped teenagers were laid to rest, while the hunt for their abductors was still underway.
While Bennett was calling to launch an offensive posthaste, then-defense minister Ya'alon was urging caution.
"Hamas has no intentions to initiate an attack through the tunnels," he said. "We need to be wary of miscalculations."
"Did they have such intentions when they kidnapped Gilad Shalit?" Bennett asked.
"No," Ya'alon responded.
Netanyahu, meanwhile, made it clear that at that point, his intentions were to lead a policy of restraint. "The goal right now is to contain."
Bennett kept pushing for an offensive: "You think if we do nothing, they would show restraint?"
"Yes," Ya'alon responded.
Minister Gilad Erdan then challenged Ya'alon on whether the defense establishment was prepared to deal with the tunnel threat. "You presented a plan to conquer Gaza, but not one regarding the tunnels," he said.
"We did present one," Ya'alon responded.
Then-IDF Chief of Staff Benny Gantz shared Ya'alon and Netanyahu's opinion in favor of restraint. "Hamas doesn't want to act. They already said on their radio, 'We've made a mistake with the kidnapping.'"
July 2, 2014: 'Hamas doesn't want a conflict'
The body of Palestinian teenager Mohammed Abu Khdeir was found after he was burned to death, leading to serious clashes in east Jerusalem.
In the cabinet, an argument was heating up over whether to launch a ground offensive to deal with the Hamas tunnels in Gaza.
Defense Minister Ya'alon stressed that such a move could lead to devastating results.
"I'm against taking actions against the tunnel entrances," Ya'alon said. "It could drag us in (to Gaza)."
Aviv Kochavi, the head of the Military Intelligence Directorate at the time, shared Ya'alon's views. "There are many indications Hamas does not want a conflict," he said.
IDF Chief Gantz added, "I recommend we strategically expose Hamas's tunnels project."
Bennett, meanwhile, was pushing for a practical work plan. "How long would a ground operation to deal with the tunnels take?"
"Two-three days," Gantz replied.
The ground operation that was later launched lasted 19 days.
July 3, 2014: Warnings from the IDF chief
Dozens of rockets were fired from the Gaza Strip at Israel, prompting the Israeli government to threaten forceful action if the rocket fire does not stop immediately.
Meanwhile, the arguments in the cabinet continued. Israel had information on the existence of a massive border-crossing tunnel near Kerem Shalom and was sending messages to Hamas on the matter.
Prime Minister Netanyahu questioned IDF chief Gantz on one possible course of action: "Will bombing the entrance to the tunnel neutralize the threat?"
"I don't know," Gantz said. "It might disrupt it."
"Could this stop us from entering the tunnels?" Netanyahu asked.
"The effectiveness of a bombing is very low," the IDF chief answered. "It's likely such an action against the tunnels will lead to (Israel having to) conquer all of Gaza."
Defense Minister Ya'alon kept urging caution. "We're living under quite a few developing threats. I suggest we don't launch an operation against the tunnels."
July 7, 2014: 'I recommend we act'
Operation Protective Edge was launched, and the cabinet authorized drawing up 1,500 reservists.
During the time between the discovery of the bodies of the three teens to the beginning of the operation, the Israel Air Force was carry out airstrikes against targets in Gaza, while armed Palestinian groups began shooting rockets from the strip into Israeli population centers. Hamas wasn't involved at this stage, but did give moral support to those firing the rockets.
Yet on July 7, this changed when Hamas launched several hundred rockets into Israel. Consequently, Operation Protective Edge was given the green light.
Ya'alon kept trying to lower the flames. "We can reach a ceasefire," he said. "We shouldn't get to where we're striping them of their tunnels. We need to take full advantage of Egyptian mediation."
Bennett didn't agree. "I recommend that we take action to neutralize the tunnels," he said.
"If we're able to ensure three years of quiet without destroying the tunnels, what's the problem?" Ya'alon asked.
"And if we get hit by a strategic attack, it will be like the Gilad Shalit incident, but times 100. It's better that we prevent this from happening in advance. I haven't seen any plans on how to prevent this from happening," Bennett said.
"And they won't build new ones after you go in?" Ya'alon wondered.
July 8, 2014: 'Conquer Gaza'
Hamas launched rockets that hit from Hadera to Gadera, while the cabinet authorized drawing up 40,000 reservists.

The cabinet ministers demanded a more firm offensive action.

"We need to conquer Gaza and remove all threats," Minister Yuval Steinitz said.

"We can't get too worked up," Minister Tzipi Livni cautioned.

"The Military Intelligence Directorate has so far erred in their assessments. We need to conquer Gaza," Minister Avigdor Lieberman determined.

"I'm opposed to a ground operation (in Gaza)," Minister Yair Lapid stated.
July 10, 2014: 'The problem won't be resolved now'
The cabinet was discussing a limited military operation, while government officials warned: "There's no escaping a ground operation."
The GOC Southern Command at the time, Sami Turgeman, joined the cabinet meeting in an effort to convince the ministers to execute a plan called "Frontal Defense," which is meant to neutralize the tunnels located up to one kilometer from the border fence.
Defense Minister Ya'alon and IDF Chief Gantz were against the plan, and the cabinet did not approve it.
The ground operation was eventually launched eight days late, on July 18, after the IDF stopped an attempt by dozens of Hamas militants to infiltrate Israel through a tunnel in Kerem Shalom.
"There is a strategic threat that can be launched against us at any moment," Turgeman said. "There are at least nine cross-border tunnels."
"Do we have to continue fire (aerial bombing) or go on a ground offensive?" Netanyahu asked.
"I oppose a ground offensive," Gantz declared. "We've had great achievements so far: Hamas is beaten, the tunnels are a reasonable risk to take."
Bennett inquired about the proposed plan. "How wide scale would the operation against the tunnels be?"
"It will include friction, but we know how to deal with that," Turgeman answered.
"If you were in our place, what would you have done?" Bennett asked Turgeman.
"He's not in your shoes, he's a wild horse racing forward," Ya'alon chimed in.
"So not in our shoes, in your shoes," Bennett amended.
"In my shoes and in yours, I'd go in (to Gaza) with three brigade combat teams to neutralize the tunnel threat," Turgeman replied.
"There are conditions to creating deterrence," Military Intelligence chief Kochavi added.
"I'm looking at the tunnel threat as an unresolved issue that we're not going to resolve it in this instance either," Ya'alon said.
"Go for a wide scale operation in Gaza," Lieberman urged. "But if it's between taking action against the tunnels or a ceasefire, go for a ceasefire."
July 27, 2014: 'Lazy bulls'
Dozens of soldiers were killed in the ground offensive. The United States demanded an immediate ceasefire.
At this point, the battles waged around the cabinet table were no longer polite, and tensions were running high, on the verge of explosion.
Ya'alon accused Bennett of undermining him by contacting senior IDF officers who were on the ground behind his back.
"You won't run the army instead of me," Ya'alon said in anger. "You won't come from the field and tell me to do this or not do that, you hear?"
"I will, if we don't get truthful reports," Bennett answered.
"I do provide truthful reports," Ya'alon countered.
"Until now, we didn't know about the ceasefire," Bennett said.
"Do I need to answer to you?" Ya'alon retorted.
"Of course," Bennett replied.
Bennett then directed his fire towards IDF chief Gantz, "I expect you to arrive to cabinet meetings with operational plans and offensive policy. I'm not the one who's supposed to present plans to destroy the tunnels. Be wild horses, not lazy bulls."
August 1, 2014: A strike during a ceasefire
The ceasefire was broken by Hamas in an attack that claimed the lives of three soldiers: Maj. Benaya Sarel, Lt. Hadar Goldin and Staff Sgt. Liel Gidoni.
Minister Erdan demanded answers from the IDF chief and the head of Military Intelligence: Why were orders given to Givati soldiers that limited their actions during that ceasefire and put them in danger?
"If I had known this would be the situation during ceasefires, I would've opposed them," Erdan said.