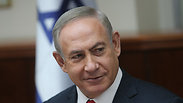 Prime Minister Netanyahu
Photo: Alex Kolomoisky
Rudy Giuliani, one of Trump's close associates and responsible for the US government's cyber security program, arrived in Israel on Tuesday.

He will be meeting with Prime Minister Benjamin Netanyahu in the afternoon.

Speaking at a Likud faction meeting on Monday, Netnayahu said "this is not the time for knee-jerk reactions, impositions, or surprises."

"This is the time for responsible diplomacy and education with our friends, the time diplomacy which will strengthen our cooperation, and increase our trust between the State of Israel and the new government in Washington," he continued.

Netanyahu then went on to speak about his telephone conversation with US President Donald Trump, saying "President Trump believes that peace will only come as a result of direct negotiations. Sound familiar? (Trump) then said that he has an unprecedented responsibility to protect Israel's security and to fight against terror from Islamic extremists."

The prime minister then added that he views his upcoming meeting with President Trump with the utmost importance.

The prime minister's statements come as a response to statements made by Education Minister Naftali Bennett (Bayit Hayehudi), who called on the prime minister to partially annex areas of the West Bank.

"The United States is entering a new era, and Israel is also entering a new era in terms of politics and security," Bennett said

He continued, saying that "Prime Minister Netanyahu stands at the precipice of a historic decision; either sovereignty or Palestine. We call on Netanyahu not to miss a once in a half century opportunity."