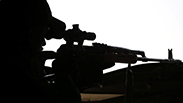 Archive photo
Photo: Reuters
Details emerged from a top secret case involving a 22-year-old Israeli who had been fighting abroad against ISIS before being arrested in June 2015 and charged with murder in a country with which Israel has no diplomatic relations, it was cleared for publication Tuesday morning.
The case was exposed approximately 2 months ago by MK Ayoob Kara, who then served as a deputy minister, and was immediately barred from public consumption by the Military Censor.
In recent days, a settlement was reached between the parties involved according to which the young man is soon to be released. The Israeli man's family has been ordered to pay the victim's family a sum of of $120,000. The young man's father is currently attempting to collect the money.
The incident occurred when the Israeli was away from battle and an errant driver discovered that he was Israeli and attempted to kill him. The Israeli, who was armed, shot him in self defense and killed him before being arrested and charged with murder, leading to concerns that if indicted, he would be sentenced to death.
The case was kept under wraps until November 2016, when Deputy Minister Kara published a post on Facebook revealing the details. Kara wrote: "After much deliberation, the Deputy Minister of Regional Cooperation, MK Ayoob Kara, revealed he has been in touch with Ilan Hassin, the 21-year-old Jewish Israeli's father, named Adam Hassin, who has been incarcerated since 6 June 2015 and will soon be indicted".
Furthermore, Kara uploaded a picture of himself with the father and a video clip in which he recounts the Israeli's story. The Military Censor has prohibited the post, even though it had already been shared on WhatsApp. Security officials even accused Kara of being irresponsible and causing damage.
The Ministry of Foreign Affairs also expressed its concerns and were quick to appeal to the Military Censor to remove the post and prevent its further dissemination. Kara's office released a statement claiming that it was done with the cooperation of the Israeli's family who had sought his help.
Recently, the case took a sharp turn, when Hassin reached a settlement agreement with the victim's family according to which he would receive a reduced sentence and soon be released.
The Ministry of Foreign Affairs has stated: "the safety and well-being of the Israeli citizen is at the top of our priorities. For that reason, we have been in constant contact with his family. We hope his father's and family's efforts are fruitful and that their son is soon released".