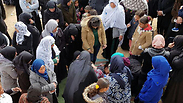 The funeral of Yaqoub Abu al-Qiyan, the man who was shot to death after running over a group of officers with his vehicle, was held Tuesday with thousands in attendance.

Among the attendees were Arab members of Knesset and elected officials who criticized the police shooting and called for a committee of inquiry to investigate the reasons and circumstances behind it.

Many attendees were heard shouting "we will give our life for the shahid."




Al-Qiyan was shot to death after swerving into a group of officers, hitting them and killing police Sgt. Erez Levi in the process. This happened during a violent protest in the Bedouin village of Umm al-Hiran last Wednesday.

Police has closed nearby junctions and intersections, stationing police in those roads in an effort to preserve order. "We respect the freedom of expression," officials said, but added "whoever decided to break the order or threaten public safety will be dealt with strictly."

Al-Qiyan's body was held by the police until Monday—firstly to perform an autopsy that concluded that he died by gunshot wounds inflicted by the police, and then to avoid "a serious blow to public order."

It is stated that the police agreed to release al-Qiyan's body to his family with the condition that they maintain public order. However the family refused the conditions, among them a defined timeframe for the funeral, a limit on attendee numbers and no political speeches.

Knesset member Taleb Abu Arar (United Arab List) said before the funeral that "we feel a great sense of satisfaction and relief following the Supreme Court's decision to release al-Qiyan, with no limitation or condition like the police asked for."

"The decision indicates that the judges were convinced that he was killed in cold blood, and that the police's efforts to mislead them failed" He added. "This also proves that holding his body was for Erdan and Netanyahu's political wealth. We will not be silent and will not forget inciters and bigots, and those who had part in distorting the truth."