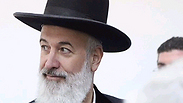 Rabbi Metzger
Photo: Motti Kimchi
Former chief of rabbi of Israel sentenced to 3.5 years in prison
Rabbi Yona Metzger signed a plea agreement in which he admitted to accepting millions of shekels in bribes and committing fraud while serving as Israel's chief rabbi; Metzger will serve three and a half years and pay a fine of NIS 5 million.
Former Ashkenazi Chief Rabbi of Israel Yona Metzger signed a plea agreement with the Jerusalem district attorney Tuesday evening in which the rabbi pleaded guilty to charges of bribery and fraud and will serve three and a half years in prison. Metzger was also fined NIS 5 million by the court.

The prosecution issued an indictment against Metzger for committing bribery, fraud and tax crimes during his tenure as chief rabbi.

The Jerusalem District Attorney's Office said, "The prosecution insists upon a longer sentence and a higher fine, especially for someone who committed crimes while in such a senior position when he should have been serving as an example. He used his position to rake in money for his own pocket."

Metzger's defense team, lead by Tal Gabai and Yehuda Freid, will reportedly seek a sentence of two years as opposed to three and a half. Additionally, the defense has reported that one of the rabbi's apartments will be forfeited.

Metzger was charged in October 2015 with bribery, fraud and brach of trust. According to the indictment, Metzger received a bribe of NIS 10 million, NIS 7 million of which made it into his pocket.

"This is the place to reiterate that even though the indictment says bribery, this is not classic bribery," said Metzger's defense team.

"Whoever reads the details understands these are brokerage fees between donors and NGOs, and were it not for the rabbi, there would be no contributions at all; there was no malicious intent on his part."

In one case, the two raised funds for a yeshiva operating in Metzger's synagogue. According to suspicions, the driver received a $28,000 donation, handed it over to Metzger, and it was divided between the two of them without being transferred to the yeshiva. Another donation of NIS 72,000 was given by an Israeli businessman to an association providing food to the needy. After receiving the funds, the association's director allegedly gave Metzger 30 percent of the donation, about NIS 22,500, without informing the donor. According to the indictment, this was repeated many times.

During Metzger's term as chief rabbi from 2003 to 2013, he allegedly received financial benefits from private people for activities related to his position. These benefits were received on many opportunities, both during private events and as a payment for the rabbi's participation in events held by the people who provided the benefits.