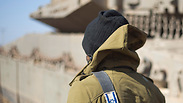 An IDF tank shelled a Hamas outpost in the center of the Gaza Strip on Tuesday in retaliation for two incidents of shooting at IDF forces earlier in the day.

No soldiers were injured and no damage was reported in the shooting, which took place towards soldiers along the border of the strip with Re'im, a nearby kibbutz.

Before that, an IDF force reported the sound of firing during regular operations that they were carrying out in the area of Metula in the upper Galilee on the Lebanese border. No soldiers were reported injured or damage reported in that case, either.

Lebanese media quoted Israeli media regarding the second incident. The Lebanese reported that "the combat public-relations unit" of Hezbollah denied that it fired at Israel. Further, Lebanese media added that the situation along the Lebanon–Israel border was completely normal.

Lebanese security sources also denied that there had been fire at Israeli forces. They told the El Nashra news site that the situation in the area was calm.

Yoav Zitun, Ahiya Raved and Liad Osmo contributed to this report.