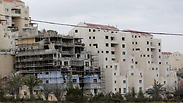 Jewish town in the West Bank
Photo: EPA
UNITED NATIONS- The UN Security Council discussed Israel's latest plan to build 2,500 housing units on land claimed by Palestinians after a briefing by a senior UN official Wednesday, but the United States did not make any comments and the UN's most powerful body took no action.
Sweden's UN Ambassador Olof Skoog, the current council president, told reporters after the closed-door meeting "this needs to be condemned" - and he said other council members who spoke agreed.
Wednesday's meeting took place soon after former South Carolina Gov. Nikki Haley, who strongly opposes the UN resolution condemning Israeli construction in the West Bank, was sworn in as US ambassador to the United Nations and a day after the Trump administration declined to take a position on Israel's latest expansion plan, breaking with past White House criticism of such construction but leaving its own policy unclear.
Bolivia, a strong supporter of the Palestinians and a council member, asked for the briefing by Nickolay Mladenov, the UN envoy trying to promote Middle East peace.
Israel said Tuesday it approved plans to build 2,500 new settler homes in the West Bank, signaling a major ramp-up of construction just days after the swearing-in of US President Donald Trump, whose election has emboldened the settlement movement.
Skoog said council members "are worried about any unilateral action that threatens the peace process -- that moves us away rather than toward a two-state solution."
Riyad Mansour, the Palestinian UN ambassador, called Israel's intensification of building in the west Bank illegal and in "complete disregard" of the council's resolution.
"It is the responsibility of the Security Council not to allow them to get away with that," he told reporters.
He said the Palestinians are discussing "all kind of ideas" with council members and others to ensure that the resolution, which calls for a halt to settlement building, is implemented.
The meeting followed the Obama administration's stunning reversal last month which allowed the Security Council to condemn Israeli building in the West Bank and East Jerusalem as a "flagrant violation" of international law. The US, Israel's closest ally, previously vetoed council resolutions on settlements but on this one it abstained.