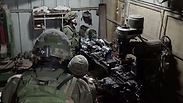 Weapons-producing machinery captured
Photo: IDF Spokesperon's Unit
Soldier injured during mission in Jenin refugee camp
Soldier evacuated to hospital after an explosive device was hurled at IDF forces in Jenin refugee camp: in separate operations, forces arrest 8 wanted Hamas activists, confiscate weapons-producing machinery in Hebron, raid home of shooting terrorist.
An IDF soldier was seriously injured overnight Wednesday after an explosive device was hurled at security forces conducting operations in the Jenin Refugee Camp to arrest two wanted Hamas activists.

The soldier, from the paratroopers brigade, was evacuated in a helicopter to Rambam Medical Center in Haifa, where his condition was reported to have improved to light-to-moderate.

Operations in Jenin

By Thursday morning, the IDF was still examining whether his injuries were caused by gunshots.

In a separate overnight operation, security forces conducted a sweep in which nine wanted Palestinian suspects were arrested in the West Bank and raided a workshop containing 8 weapons-producing machines in Hebron.

In addition, IDF forces entered the home of the terrorist who shot at soldiers from a travelling vehicle near Ramallah on Wednesday evening.

The shooting attack took place approximately one hour after another terrorist attempted to ram his car into a number of pedestrians waiting at a bus stop Kokhav Ya'akov, apparently intent on stabbing them after running them over.

Yoav Zitun, Elisha Ben Kimon, Ahiya Raved and Elior Levi contributed to this report.