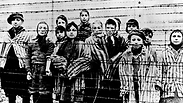 The Central Bureau of Statistics posted new data regarding Holocaust survivors in Israel before International Holocaust Remembrance Day on Friday. In the report, the survivors are defined as those who were "exposed to the Nazi regime."
Yael Finestein from the Demography and Census Department, said that "the definition of Holocaust survivors changes from one organization to another, and we decided to compose a Bureau report on the subject. We built a model based on prior surveys concerning individuals who defined themselves as having been exposed to the Nazi regime and those who weren't, but lived in the relevant countries and during the relevant years. We took into consideration the course of their lives and compared it to the definitions used by the Claims' Committee."
The survey distinguishes between three groups. The first consists of over 63,000 Israelis who lived in a ghetto, in hiding, in a concentration camp, or in an extermination camp between the years 1933-1945. Around 30,000 are refugees who were forced to leave their places of residence, and about 109,000 lived in countries under the control of the Nazi regime.
Within the third group, some 60,000 come from North Africa: Morocco, Tunisia and Libya. The children of Iraqis and Algerians were not included in the report since not enough Israelis had been reviewed by the statistics bureau.
Another definition taken into account is "victims of anti-Semitic harassment" during World War 2. They consist of approximately 55,000 people entitled to stipends, and another 5,000 whose application is being processed: 54 percent come from Morocco, 39 percent from Iraq, and 7 percent from Algeria.
The statistics bureau also made assessments with regard to the mortality of Holocaust survivors, according to which by 2020, their population will diminish by 23 percent.