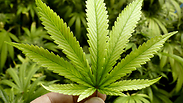 Marijuana decriminalized?
Minister of Public Security Gilad Erdan held a special press conference on Thursday in which he presented a comprehensive change in enforcement policy against marijuana users.
Erdan presented the changes that will affect users holding up to 15 grams of the still illegal substance under the banner of "moving to responsible decriminalization."
"On the one hand we are not giving up the option for criminal enforcement," said Erdan, "but on the other we are moving the focus and weight of our policy to education and treatment."
According to the new policy, first time offenders will be fined by an amount which has yet to be determined and will not receive a criminal record. Second time offenders will be fined twice that amount and will also not receive a criminal record. Third time offenders will only receive a criminal record if the police deem it necessary (in accordance with the new conditional agreement), and if so will also have their driver's and firearms licenses revoked. Fourth time offenders will be indicted according to police assessments.
Regarding minors, first time offenders will be referred for treatment, second time offenders will be handled in accordance with the new conditional agreement law, and third time offenders and onwards will be indicted according to police recommendation.
According to Erdan, he intends to present the new initiative to the government, who needs to authorize it – a process he claims will take about three months.
Erdan states that there are amendments to be made and a new process for conditional agreement case closing procedure for recreational cannabis usage is in order. In addition, a new system for fine collection by the police will be established, so the money will be properly transferred to education and treatment of cannabis users.
They will also look for a technological solution and granting police authority for enforcing against driving under the influence. Erdan also clarified that he still stands firmly against growing cannabis and that in that respect the law will stay as it is.
"We want to continue to educate youth that drugs are harmful," he said, "but on the other hand the police are not equipped to deal with the damages of drug use. For example, they don't have a way to enforce against driving under the influence, and so every policy change must be made thoroughly and comprehensively," Erdan said.
"If data shows that in spite of criminal enforcement there is no reduction in the number of cannabis users, than we must examine if and how we can remove the criminal component either fully or partially," he continued
"This subject is not something that I am willing to handle negligently or irresponsibly, without first understanding what changing our current policy could lead to. The legitimization of drug use and the numbers of users only increased. It is also a subject that gained much exposure in recent years. Cannabis has seen use as a pain killer and I respect the importance and support a way in which a patients' suffering can be eased," he added.
Erdan emphasized that "in spite of my aggressive stance, over the years I met normal people who have no criminal background, whose chances to succeed in life were negatively affected by having a criminal record due to recreational cannabis use. This led me to the conclusion that I must rethink my stance and Israel's policy on the matter."
The conference was started by Director General of the Ministry of Public Security Rotem Peleg, who referred to the committees' conclusions. "The team was unequivocally convinced that cannabis use has dangerous effects – both mentally and socially. The majority of people that presented in front of the committee testified that using this substance is dangerous" said Peleg, adding "however, we have seen the use of cannabis grow in recent years and therefore concluded that we must reexamine our policy."
Knesset Member Tamar Zandberg (Meretz), Chairwoman of the Committee on Drug and Alcohol Abuse, welcomed the new policy. "This is a correct and brave decision by Erdan, (a decision) whose time has come. Israel is falling into line with logic, justice and, most countries around the world. The policy change by Erdan, who was one of the staunchest opposers (of decriminalization), proves that a public battle that is right and persistent can also triumph," she said.
"Erdan was attentive to the discussions held by the committee I head and by the public for years, and made the necessary move." Zandberg continued. "This is a big step forward, and the committee I head will keep following and assisting the amendments and policy changes and will continue leading a progressive discourse on the subject."
The committee included, representatives from the ministry of public security, ministry of justice, the anti drug authority, and experts in the field, among others. Recently they have consolidated and presented their opinions on the matter to Gilad Erdan and Director General Rotem Peleg.
The committee was established by Erdan to reevaluate enforcement policy, Knesset Member Shiran Haskel (Likud) proposed a bill for cannabis decriminalization. The team examined several enforcement policies towards cannabis users around the world.
In deliberation held by the Committee on Drug and Alcohol Abuse the representatives of the anti drug authority expressed support in Portugal's policy model, wherein self use of 25 grams or less is not handled criminally but by the department of health instead. This spurred a consensus to establish a new policy of decriminalization for users holding only a few grams.