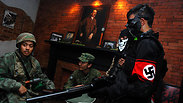 The Soldiers' Cafe
Photo: AFP
BANDUNG - A controversial Nazi-themed cafe in Indonesia with swastika-bearing walls has closed over a lack of customers, a lawyer said Thursday, but pledged it would reopen at a bigger location.

The SoldatenKaffee ("The Soldiers' Cafe"), which also sports a painting of Adolf Hitler, sparked global outrage when reports about the unusual venue in the city of Bandung surfaced several years ago.

The owner Henry Mulyana voluntarily shut the cafe in 2013 after receiving death threats but it was reopened a year later, with the image of the Nazi leader still in place and three huge iron eagles with swastikas on display.

But in the end it was not the controversy that forced the cafe to close its doors again - but a lack of interest.

Mulyana's lawyer Rohman Hidayat confirmed that the SoldatenKaffee had shut as there were not enough customers to support it, but said he did not believe people had been put off by the theme.

"The public interest is low because the current location is not very strategic," Hidayat told AFP, adding the cafe was shut six months ago and the decision was taken purely for business reasons.

He said Mulyana was looking for a better location in downtown Bandung—the previous site was in a quiet area outside the centre—and for new investors to build a bigger cafe, although he did not say when it would reopen.

Hidayat insisted the SoldatenKaffe, which takes its name from cafes where German troops used to hang out in occupied Paris during World War II, would still display the Nazi memorabilia when it opened again.

"Those objects are not illegal," he said.

"It's not because we love Hitler, we only love things related to World War II."

When Mulyana reopened the cafe in 2014, he sought to escape criticism by broadening the theme, adding images of other World War II figures like Winston Churchill and Josef Stalin alongside Nazi-related memorabilia.

The cafe first opened its doors in 2011, but only found itself at the centre of controversy two years later when the English-language media began highlighting its Nazi theme.

The reports prompted fierce criticism from overseas, particularly from Jewish organizations, including the LA-based Simon Wiesenthal Center, which expressed its "outrage and disgust" and called for the cafe's closure.

Historians have blamed poor schooling for the lack of awareness and sensitivity about the Holocaust in Indonesia, which is home to the world's biggest Muslim population and a tiny number of Jews.