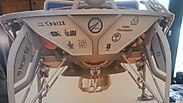 SpaceIL space shuttle model
Photo: Mor Company
A giant leap to the moon: SpaceIL, the Israeli representative in the international competition to land a space shuttle on the moon held by Google, qualified for the finals.

This was announced Tuesday night. In addition to the Israeli company—companies from Japan, United States, India and the international company Synergy Moon qualified as well. Israel is now closer than ever to joining an elite club of three world powers who have landed on the moon: the US, Russian and China.





Kfir Damari, the founder of SpaceIL, told Ynet in an interview about the competition, stating that "this is an international competition, a competition in which Google is in fact donating the prize—landing an unmanned space shuttle on the moon. This will be the first time that the space shuttle will be privately owned instead of governmentally owned."

With regard to qualifying for the finals, Damari said that "in fact, the final stage is a stepping stone, but ultimately, the purpose is to land a space shuttle on the moon, walk 500 meters and transmit footage. At the beginning of the competition, there were 33 teams, and then it dropped to 16. The competition organizers announced that whoever doesn't buy a space launch by the end of 2016 is out of the competition. We were the first to buy a launch."

Damari added that the launch is expected at the end of the year. "We have a launch window of six months," he said.

Commenting on the reason behind their participation in the project, Damari said, "We have an educational vision, through the landing we hope to show students that science and engineering can be cool and make them into scientists."

Eran Privman, SpaceIL's CEO, said, "We have been waiting for this moment for a long time. By becoming finalists in the Lunar XPRIZE competition, Google officially confirmed what we have known all along—that Israel is at the forefront of global technology. Making it to the finals puts us in the lead. Our hard work over the last six years is finally bearing fruit and we look forward to the historic day of the launch and to the day in which the first Israeli space shuttle lands on the moon."

Originally, 33 groups from all over the world signed up for the competition, which opened in 2007. The competition is in fact a modern international race between private companies to land an unmanned space shuttle on the moon. Within a few years, most competitors dropped out when they realized how challenging and complex the mission actually is, and so, only 16 groups stayed in the race. As the year ended, only five groups actually signed launching contracts, which automatically eliminated the others, with the Israeli team being the first to climb on board.

The first place is set to win $20 million, and the second place, $5 million.