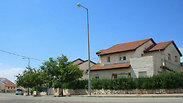 Prime Minister Benjamin Netanyahu ordered the construction of 68 housing units in the West Bank settlement of Ofra to replace the nine houses that the High Court of Justice had ordered to be demolished. The Prime Minister's Office explained on Friday that this step was taken to prevent clashes when the illegal houses, built on private Palestinian land, are evacuated.

The PMO stated that the prime minister's instructions were given following a conversation that took place between Yoav Horowitz, Netanyahu's chief of staff, and a delegation of Ofra residents.

The PMO added that Netanyahu promised to the settlement's residents to promote zoning approval for the town.

On Wednesday, the homeowners whose houses are to be demolished filed a petition to the High Court, which had previously ruled that the demolition was to take place by February 8. The residents asked the court to postpone the date by three months.

The residents claimed that the houses they are supposed to move into won't be ready on time. The appeal stated, "Ever since the demolition order, the residents didn't stand idly by, and began pushing toward the implementation of the verdict; they reviewed proper alternatives for relocation, and eventually decided to purchase new structures for their families in Ofra. The process of completing the construction of the new houses has been delayed and it is still in progress. They will be completed in three months at the latest."

About two weeks ago, Ofra residents came to the Knesset to try to prevent the planned move. In a letter they distributed in the hallways of the parliament, they stated, "We demand changing the land's status once and for all. The helplessness and inaction of the government and Prime Minister Benjamin Netanyahu will not make us yield in the face of the Israeli government's move to demolish houses in Ofra."

Ofra residents have threatened that they will go on a hunger strike at the beginning of next week in front of government buildings. In addition, the efforts of the Amona residents to find a proper solution after the agreement they signed is on the brink of failure is still ongoing.