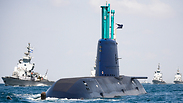 AG approval required to turn this into a full investigation
Photo: IDF Spokesperson
Former defense minister Moshe Ya'alon has reportedly told police of Prime Minister Benjamin Netanyahu's direct involvement in the purchasing of submarines and the tender bias in favor of German conglomerate thyssenKrupp, Channel 2 reported on Saturday night.
In his testimony last week, Ya'alon told investigators of Netanyahu's efforts in canceling an international tender for the submarines and other naval vessels and altering it in favor of thyssenKrupp, whose representatives in Israel are the prime minister's personal lawyer David Shimron and Shimron's client, businessman Miki Ganor.
Ya'alon reportedly provided investigators with detailed information on the talks Netanyahu had with German government officials both for the purchase of three new submarines and for the purchase of anti-submarine warships for the Israeli Navy—without consulting the defense establishment.
Ynet was informed that Ya'alon's statement will obligate investigators to carry out a variety of other investigative actions, including gathering evidence from senior figures in the Ministry of Defense and the Navy regarding the manner in which decisions were taken to purchase the vessels.
The Prime Minister's Office said in response: "The prime minister acted with the accompaniment of (defense) professionals and based on (their instructions), and the tender was removed only after the German government gave Israel the discount that defense officials demanded."
Currently, the police are not intending to investigate Netanyahu in the matter, at least not until evidence has been gathered from the others involved and the attorney general has examined it. It will be on him to decide if the prime minister should then be investigated.
This case requires the police to carry out judicial inquiries abroad, principally in Germany, if the attorney general approves upgrading the preliminary investigation to a full-fledged one.
Sources in the police told Ynet that the case is spread over several years and includes tremendous amounts of material. Thus, it would be difficult to investigate it simultaneously with other suspicions currently being probed, adding that reaching the truth of the matter could take a long time.
On Friday, Netanyahu was questioned for the third time concerning suspicions he received illicit gifts from wealthy donors and concerning his alleged efforts to strike a deal with Yedioth Ahronoth publisher Arnon Mozes concerning coverage about him.