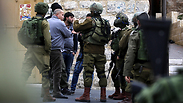 IDF forces attacked in Jenin arrest raid; 1 Palestinian killed
IDF forces were attacked by a group of Palestinians who hurled an explosive device at them wounding one soldier moderately; soldiers returned fire and wounded two, according to a statement. Palestinians claim a 19-year-old man was killed by IDF gunfire.
IDF forces and Palestinians clashed overnight Sunday during an IDF arrest operation in Jenin, in which one Palestinian was killed and five others wounded. There were no IDF casualties.

Soldiers were attacked by a group of Palestinians who hurled explosive devices at them, moderately wounding a soldier. Soldiers returned fire at the group and wounded two, according to an IDF statement.

Palestinians identified the dead man as a 19-year-old belonging to a family known to Israeli security forces. Just last Thursday, five members of the man's extended family were arrested during an IDF raid in Jenin for wanted suspects.

IDF anti-terror activities have increased recently as a result of several attacks in the last week.

Sunday night two suspects were detained in Deir Abu Mash'al by the Shin Bet and the IDF's elite Duvdevan unit. The two were arrested for attempting to plan a shooting attack near Nili in the West Bank.