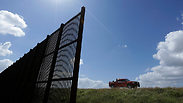 US-Mexico border
Photo: AP
Prime Minister Benjamin Netanyahu's tweet in support of Trump building a wall on the US-Mexico border has incensed Mexican diplomatic officials.

The Mexican government sent a strongly worded letter to the Israeli government, saying "the Mexican Secretariat of Foreign Affairs has expressed to the Israeli government - via its embassy in Mexico – the Mexican government's absolute shock, disappointment in, and rejection of Prime Minister Netanyahu's statement regarding the construction of a wall on the border."

According to the statement, "Mexico is a friend of Israel, and the Prime Minister should treat us like one."

The message also noted that Mexican Secretary of Foreign Affairs Luis Caso stood with the nation of Israel on for International Holocaust Remembrance Day which was on Friday.

Mexican-Jewish community leaders also expressed their outrage over Netanyahu's tweet.

Saturday night Netanyahu tweeted "President Trump is right. I built a wall along Israel's southern border. It stopped all illegal immigration. Great success. Great idea." He ended the tweet with Israel and American flag emojis. Netanyahu's tweet was based on the government's decision to build a fence along the border with Egypt. Trump later retweeted Netanyahu's tweet.

A spokesman for the MFA, Emmanuel Nahshon, also took to Twitter, though his post seemed to seek to put off any potential crisis with Mexico. He wrote that Netanyahu "referred to our specific security experience which we are willing to share. We do not express a position on US- Mexico relations."

Israeli Ambassador to Mexico Yonatan Peled also tweeted in Spanish "It is impossible to compare the Israel-Sinai border with the US-Mexican border. (Our border) was closed to defend ourselves from terrorism." His statement didn't placate the Mexican government however.

Former US Ambassador to Israel Dan Shapiro, who is still in country despite the fact that his posting has ended, attacked Netanyahu's position on the American wall proposal via Twitter.