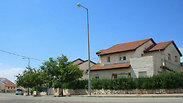 Prime Minister Benjamin Netanyahu has instructed coalition chairman David Bitan to approve the Regulation Bill following the second and third readings to be held this week.

Meanwhile, Netanyahu's Chief of Staff Yoav Horowitz met with residents of Ofra to tell them that Netanyahu is determined to pass the law. He also told the residents that Netanyahu is working to get 68 additional housing units approved for the town, specifically for those families who will be evicted from their homes.

The regulation bill has been subject to previous criticism, including from the prime minister. Netanyahu sad that this bill needs to be managed with care, and said that it will help direct the government in its policies for settling the West Bank.

The Knesset Constitutional, Law, and Justice Commission will discuss the law proposal, and the votes of the second and third readings. After the meeting with Horowitz, Cabinet Secretary Tzahi Browerman along with Ofra residents, decided to delay a hunger strike which Ofra community leaders were planning to hold.

The law, which was proposed by Shuli Mualem (Bayit Yehudi) and Betzalel Smotrich (Bayit Yehudi), is an attempt to regulate the status of Jewish communities in the West Bank, including both Amona and Ofra. Residents of these two communities are being evicted from their homes following an Israeli Supreme Court decision.

The law says that people whose homes have been built on private Palestinian land should not have their houses demolished, and that the Palestinians should be given monetary compensation instead.