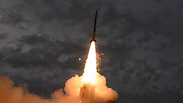 David's Sling
Photo: Defense Ministry
The joint Israeli-US missile defense system known as David's Sling—part of Israel's multi-layered missile defense program—is nearing operational readiness and has been cleared to be presented to potential customers abroad, such as Poland.
David's Sling is part of Israel's anti-missile defense program, and is meant to intercept tactical ballistic missiles, medium- to long-range rockets, and cruise missiles fired at ranges of 40km to 300km.
David's Sling tests (צילום: מנהלת "חומה" במשרד הביטחון)
The system recently passed a series of comprehensive tests and trials in the past week in which advanced missiles fired from F-15s were successfully intercepted over the Mediterranean Sea.
Joint US/Israeli cooperation
David's Sling is the result of cooperation between Rafael Advanced Defense Systems and American defense contractor Raytheon, which produces the Patriot missile system.
The Israeli and American governments collaborated closely on the development of the system, for which the US government provided $600 million. Additionally, members of the American Missile Defense Agency at the Pentagon regularly attended technical and administrative meetings.
According to a Rafael official identified as Shlomo, "Raytheon is our strategic partner and is creating jobs and employing hundreds of small and medium sized manufacturers in the US. After our recent round of tests, we received heartwarming messages from our friends at Raytheon and there is a very high level of mutual respect between our two companies and countries."
Other Israeli defense contractors contributed components such as Israel Areospace Industries (IAI), which developed the system's radar, and Elbit Systems, which developed the command and control mechanisms.
Future prospects
The system has passed several tests and trials in the past, including the ability to destroy heavy salvos of long-range rockets and short-range ballistic missiles.
While system components have already been integrated into IAF facilities, the air force is expected to declare the system operational soon and has already drafted a large corps of soldiers to be trained on the new system.
With the system set to be operational in the very near future, the Israeli government is already vetting potential customers along with the US government.
"We have already received licenses from both governments to show it to potential customers, such as Poland. The intercept capabilities are higher quality and significantly cheaper than competing systems, which will help with tenders. I hope we will see significant progress this year towards exporting the system and its components," said Shlomo, an official with Rafael.
Fred Goldberg contributed to this report.