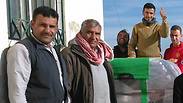 Homebiogas
Photo: T.H. Culhane
Israeli green-tech companies are building cultural bridges to help provide Syrian refugees in Jordan with clean, free cooking gas.

One of these firms, HomeBiogas, co-sponsored two HomeBiogas systems to be set up in the Zaatari refugee camp in Jordan.




The Zaatari Refugee Camp hosts around 80,000 people who fled Syria in the wake of the civil war going on there.

The HomeBiogas system provides cooking fuel by taking organic kitchen waste or animal waste and putting it into a "digester tank." Bacteria in the "digester tank" then break-down the waste in a processes called anaerobic digestion, thus creating biogas, such as methane. The gas is then funneled to a kitchen stove via a pipe, providing a clean, free, renewable way to cook food.

This helps to replace the dangerous and unsanitary cooking fires which the refugees have been using to cook on in the camp. These cooking fires have already caused deadly fires to break out in the cramped refugee camp several times.

Additionally, HomeBiogas has installed biogas conversion systems in Bedouin villages in Israel as well as in underserved communities in the West Bank as part of a project with the Peres Center for Peace.