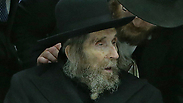 Rabbi Aharon Yehuda Leib Shteinman
Religious or not, the report about Rabbi Shteinman's condition evoked responses from many politicians. The president, prime minister, minister of public security, minister of culture and sport and others posted and to social media prayers for the 104-year-old rabbi's wellbeing.

Prime Minister Benjamin Netanyahu opened the weekly cabinet meeting on Sunday wishing fast recovery for the rabbi, saying, "We are changing today's schedule a bit on account of Rabbi Shteinman's illness. I would like to wish him a fast and full recovery. He is a very important man not only in the Haredi world, but also in the Jewish community as a whole, and I join the vast public wishing for his wellbeing and recovery."

President Reuven Rivlin spoke with Mayanei HaYeshua Medical Center CEO, Rabbi Shlomo Roshiled, and with MK Moshe Gafni (United Torah Judaism) and said, "My prayers go out to this outstanding rabbi of the generation, Rabbi Aharon Yehuda Leib Shteinman." He added that "he is in the best hands. Thank you for your kind and devoted care; we will keep him in our prayers."

Minister of Culture and Sport Miri Regev (Likud) tweeted that she "prays with many for the wellbeing of Rabbi Shteinman who is currently fighting for his life. May God heal him." Minister of Public Security Gilad Erdan (Likud) posted that he "prays for the full recovery of Rabbi Shteinman's, one of our generation's greatest minds." Minister of the Interior Rabbi Aryeh Deri (Shas) posted, "Rabbi Shteinman, who lived in asceticism for 104 years praying for the Jewish people, needs our prayers. Religious or not, take a minute to pray for his wellbeing."

Shteinman, one of the leaders of the Haredi community, was hospitalized yesterday in Mayanei HaYeshua Medical Center in Bnei Brak. On Sunday, it was reported that his condition worsened, and the hospital stated that "a group of our senior physicians is running tests to find the source of infection in his body."

The 104-year-old rabbi, who is the senior rabbi of the Lithuanian-Haredi movement and one of the leaders of the United Torah Judaism political party, was hospitalized for "acute respiratory distress" just one month after he was hospitalized for 8 days for acute pneumonia.