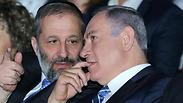 Deri (L) and Netanyahu
Photo: Edi Israel
Interior minister pleads with PM to apologize to Mexico over wall tweet
Following the backlash from the Mexican Jewish community and government after Netanyahu's tweet supporting Trump's proposed wall, Aryeh Deri asks him to consider tweeting an apology, saying, 'I don't understand why you needed to get into it'; Mexico summons Israeli ambassador for reprimand.
Interior Minister Aryeh Deri (Shas) joined the Mexican foreign ministry in criticizing Prime Minister Benjamin Netanyahu on Sunday for having tweeted support for the US president's planned wall along the American-Mexican border the day before.

Deri claimed that he had received many outraged calls and messages concerning Netanyahu's support for Donald Trump's proposed wall, which he has said that Mexico will fund. The interior minister specified that most of the angry messages were from the Jewish community in Mexico asking why Netanyahu was grabbing hold of such a hot potato.

When Shabbat ended, the prime minister tweeted, "President Trump is right. I built a wall along Israel's southern border. It stopped all illegal immigration. Great success. Great idea." He ended the tweet with Israel and American flag emojis. Netanyahu's tweet was based on the government's decision to build a fence along the border with Egypt. Trump later retweeted Netanyahu's tweet.

The comment was swiftly rejected by leaders of the Jewish community in Mexico, and prompted an unusually blunt statement from Mexico's foreign ministry.

"The Foreign Ministry expressed to the government of Israel, via its ambassador in Mexico, its profound astonishment, rejection and disappointment over Prime Minister Netanyahu's message on Twitter about the construction of a border wall," the ministry's statement.

"Mexico is a friend of Israel and should be treated as such by its Prime Minister," it said, noting that Foreign Minister Luis Videgaray expressed his deep affection for Israel in an event marking International Holocaust Remembrance Day on Friday.

Mexico City further announced that it summoned Jonathan Peled, Israel's ambassador to Mexico, for a formal reprimand. Unusually, it was the foreign minister himself who summoned Peled, which speaks to the Mexican government's anger at Israel.

The Central Committee of the Jewish Community in Mexico issued a statement saying it "forcefully rejected" Netanyahu's comment, while several prominent Mexicans of Jewish origin sharply criticized the Israeli leader on Twitter.

"So you like walls @netanyahu? Here you have a couple of nice designs," said Mony de Swaan, a former head of the Mexican telecommunications regulator, posting images of walls commemorating Bergen-Belsen, the Nazi concentration camp where diarist Anne Frank died, and the Warsaw Ghetto.

A spokesman for the Israeli Ministry of Foreign Affairs, Emmanuel Nahshon, also took to Twitter shortly after the prime minister's tweet. He wrote that Netanyahu "referred to our specific security experience which we are willing to share. We do not express a position on US- Mexico relations."
'I don't understand why you needed to get into it.'
At a forum of party leaders on Sunday, Deri, along with Minister of Tourism Yariv Levin (Likud) that the wall that Israel had built did indeed stop illegal immigration arriving from Egypt. Deri said, "It's needless to say that if the prime minister hadn't built a wall in the south, immigrants would continue to arrive en masse."

The prime minister replied jokingly, "Why 'needless'? Say it again and everywhere!"

After complimenting Netanyahu, the interior minister also expressed criticism: "Let's really talk about walls. You came out in support of Trump and for the wall, something which has driven the Jews of Mexico and the very large Jewish community that lives there crazy."

Referring to the prohibition from writing on the Sabbath, Deri continued, "Jews in Mexico even desecrated Shabbat and signed petitions in synagogues against that reply. I don't understand why you needed to get into it. It's their internal matter."

Netanyahu stopped his minister there and replied, "I didn't' get into their matter, with all due respect. The argument between the US and Mexico isn't whether there'll be a wall. The debate is who will fund its construction, and I didn't get into that, so it wasn't getting involved in an American matter and certainly not interference"

Deri did not relent, replying, "I, the little guy, think that it might be desirable for you to reconsider this. Even to tweet an apology on Twitter, and I'll share it, or I'll tweet in your name."

Netanyahu replied, "Talk about that with the Ministry of Foreign Affairs."

At the end of the meeting, Deri did indeed post his own tweet, writing, "I just now spoke with PM Netanyahu on the need to continue warm relations between Israel and Mexico. The PM told me that Israel will not interfere in the dispute between eh US and Mexico on funding the fence. We will continue to strengthen the relations with Mexico in which much of the Jewish people live in dignity." Shortly thereafter, Deri reposted the tweet in Spanish.