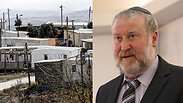 Amona & Mandelblit
Photo: Gil Yohanan, AFP
Attorney general tells PM he won't defend the Regulation Bill or Amona policy
The Amona situation gets even more complex as the attorney general announces to the prime minister that he will not support the Regulation Bill or represent the state in its petition to the High Court of Justice in the case of the Amona evacuation.
Attorney General Avichai Mandelblit announced to Prime Minister Benjamin Netanyahu on Sunday that he will not defend the Regulation Bill before the High Court of Justice (HCJ) if it passes in the Knesset.

In addition, the AG notified the political leadership that, following Amona's residents retraction of their peaceful evacuation pledge, he will not represent the state in their petition to the HCJ in the case of the Amona evacuation.

Regarding the Regulation Bill, Mandelblit is of the opinion that it is not constitutional, even after the amendments to it during its revising in the Knesset. He expressed concern that the law will expedite the preliminary check against Israel in The Hague's International Court of Justice, saying that it could turn their investigation into Israeli settlements into a lawsuit.

On Saturday, Netanyahu instructed Coalition Chairman David Bitan (Likud) to present the law to the Knesset for a second and third reading. During a meeting held that day between prime minister's chief of staff, Yoav Horowitz, and the residents of Ofra settlement, Horowitz notified them that Netanyahu is determined to pass the bill and added that he is simultaneously instructing the building of 68 residential units in Ofra to provide a solution for families who are to be evacuated.

On Monday the Knesset's Constitution, Law and Justice Committee will be convened to discuss the bill and for voting on second and third reading. Following the meeting between Horowitz, Cabinet Secretary Zahi Braverman and the residents of Ofra it was decided uner Ofra's leadership to postpone the hunger strike that was planned to start Sunday morning.