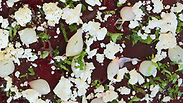 Beet carpaccio
Photo: Yaron Brener
Beet carpaccio by Chef Roi Hanin from Piano Piano.
Ingredients (for one serving):
1 beet, boiled

1 1/2 tablespoons of olive oil

2 tablespoons of balsamic vinegar

50 grams of feta (or sirene) cheese, grated

1 tablespoon of chopped coriander

A pinch of salt and pepper

5-10 pickled pearl onions

Cooking utensils:

A mandoline slicer
Preparation:
Set the mandoline slicer to the desired thickness and slice the beets.

Pour the olive oil and balsamic vinegar onto a flat plate and mix. Sprinkle salt and pepper on top.

Arrange the beet slices on the plate.

Sprinkle the feta cheese, pickled onions and coriander on top.

Enjoy.